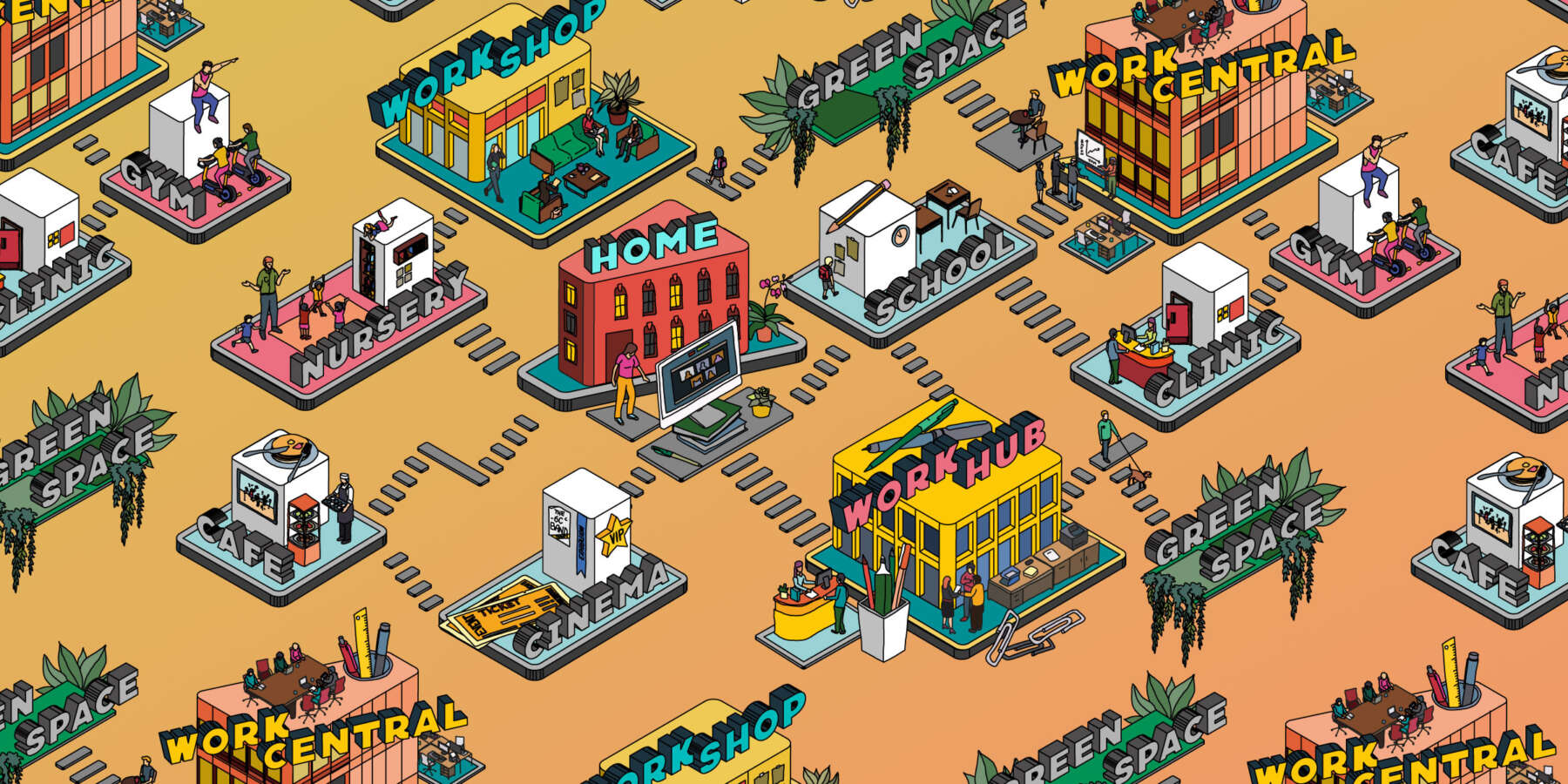 Well-Worked Life
Our working lives are changing, and so are the places where we work
Scroll
---
Our working lives are changing, and so are the places where we work. Amplified by the pandemic, remote-working has led to the greatest shift in working patterns since the industrial revolution, affording a greater sense of flexibility in a new hybrid working reality.

Individuals, employers and developers have been challenged to rethink the role and value of the office space, as the demand for flexibility and location-independence grows. Alongside the influences of the co-working market and gig-economy, established office cultures are shifting.
In the shadow of the pandemic, a new kind of workplace has been birthed: one that provides more than just the standard desk space, but also nurtures a sense of belonging and community that inspires creative exchange and innovation. This fundamental shift in perception offers an opportunity to rethink the role of the office in the places we, as designers, create.
For so many years it has been the accepted norm to rise in the morning and head off to work, put in our hours and trundle home again. This is a pattern originating from the Industrial Revolution, which needed a concentrated workforce as industries relied on expensive and centralised technology, meaning that we had to move closer to the machines. Remote working has decoupled technology from the workplace in a quietly revolutionary way.

The pre-pandemic approach to achieving a positive work-life balance tried to bring a semblance of choice into the workplace, which was a positive step. It recognised that personal choice led to a happier life; you could choose to work at your desk or in a communal area, at the café or in the local park. What happens if we apply this principle to our working day from the moment we rise rather than the moment we get to work, giving a greater degree of individual choice back, trusting more and allowing both employer and employee to benefit from a more flexible structure?

The workplace needs no longer be fixed in location, but may change from day-to-day between the home office, the local high street, a regional hub or a central office. This shift in gravity creates a choice, where the large offices and co-working spaces are complemented by a network of flexible work locations and edge-of-centre offices.
The changing face of shopping centres and retail has presented an opportunity for town centres to become more mixed-use and work-focused. The local high street can become the place for smaller, localised working hubs that are connected to neighbourhood centres, offering high-quality working environments closer to home. Bringing workplaces into the neighbourhood will help them thrive by strengthening local economies and bringing new opportunities for independent and small-scale businesses.
The larger central office may become smaller - a logical step for businesses wanting to reduce their expensive floorspace. This does not necessarily lead to dwindling economic centres, but unlocks space for increased diversity in popular locations. In contrast, regional centres have the capacity to attract larger workplace tenants as businesses look for a more cost-effective and less central locations.

If we allow greater autonomy, we can tailor our day-to-day working environments to our personal circumstances and the preferred balance of work and home life. In a multi-nodal future that offers choice to employees about where to work, employers will have to compete to attract people into a centralised workplace. Successful businesses will be those that offer flexibility yet retain sufficient centrality in mixed-use neighbourhood settings with a strong identity and brand.
Illustrations - Jarrell Goh

Graphic Design - Sophie Cresswell