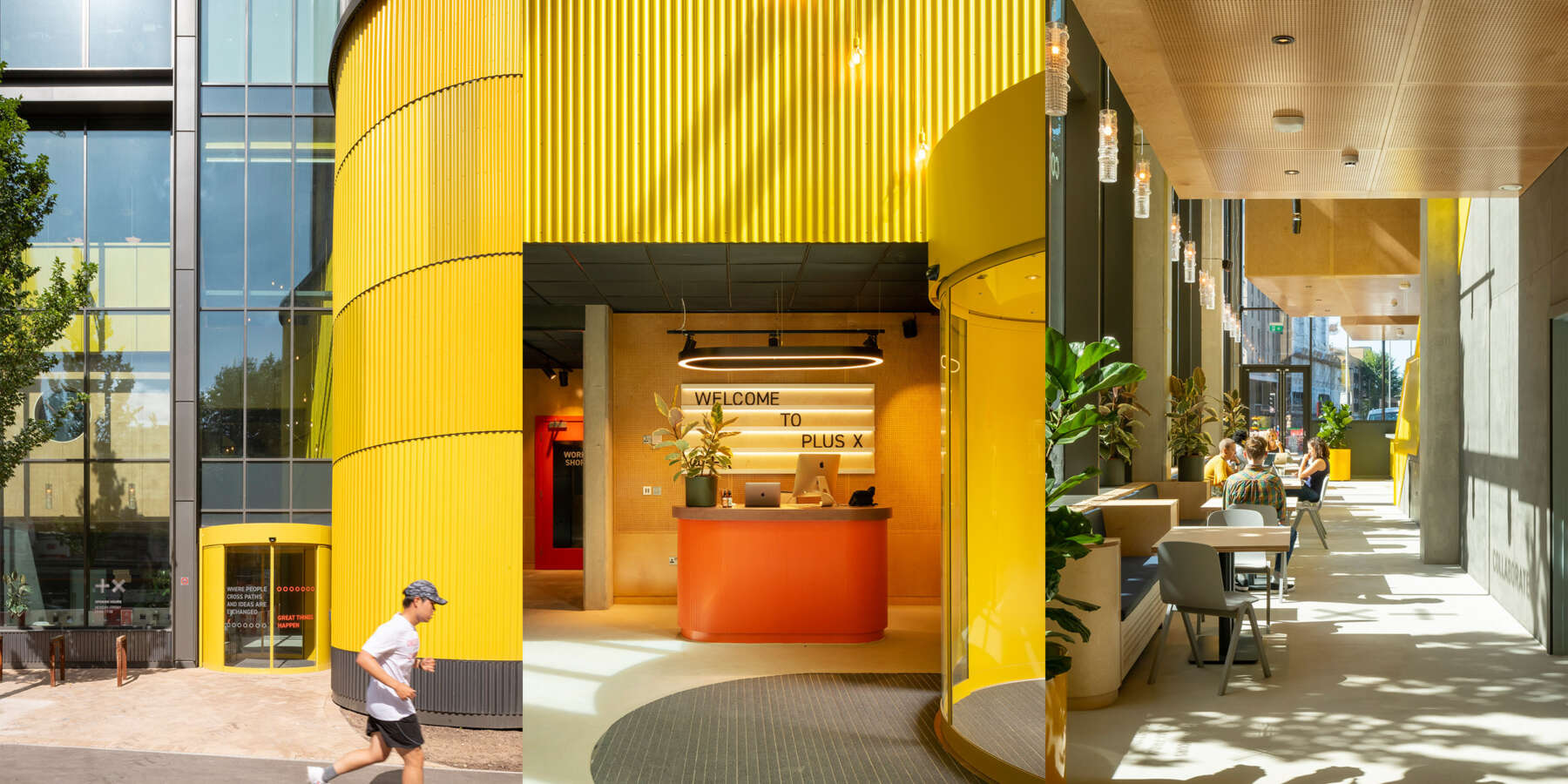 Well-Worked Space
Future workspaces that offer more
Scroll
---
As we have established in Well-Worked Life and Well-Worked Neighbourhood the case for investing in workspaces becomes ever more important, as employers compete to attract a workforce.
The next question is: What type of workplace might this be?
SEW's Manifesto for a Well-Worked Neighbourhood captures 10 principles that can help us design a sustainable working neighbourhood - fit for the future - all of which have a bearing on workspace design.
Our scheme at Moulsecoomb, on the edge of Brighton, is a great example of workspace-led placemaking. With 50,000 square feet of interior space, Plus X Brighton is the anchor of the neighbourhood, and the first phase of a development that will deliver 350 homes and 500 student rooms. The scheme captures many of the principles set out in our manifesto, with the Plus X building an exemplar workspace that encapsulates the changing attitudes towards workspaces.
We explain how Plus X Brighton pioneers wellbeing in the workplace - and is also a case study to speculate on the changing psyche of the British workforce that is influencing the evolution of future workspace design.
Healthy Buildings are Sustainable Buildings
Of the different metrics which can be used to assess the quality of workspace design, it is rightly the case that priority is given to sustainable accreditations (BREEAM, NABERS), over those based on wellbeing (WELL), or communications (WIRED).
This is led as much by the principles of the workforce as it is by regulation from local authorities and central government. If we overlay this with the post-pandemic adjustment to our working patterns, we can understand why tenants' values are shifting to search out sustainable buildings that also address the wellbeing of users. Tenants are seeking an environment that encourages employees back to the workplace and that acknowledges the global climate emergency.
A building that seeks to promote positive wellbeing cannot do so successfully without firstly prioritising, and promoting, a positive approach to sustainability.

Plus X Brighton – A Platinum Prototype and WELL case study
There are currently only 69 WELL Platinum certified buildings globally, of which three are British, all located in London. Completed in May 2020, The Plus-X Innovation Hub in Brighton will soon become Britain's fourth WELL Platinum certified building, the first outside London, and the first new-build workspace to pair a WELL Platinum certification with a BREEAM excellent rating.
Located within the Preston Barracks development a mile-and-a-half from Brighton city centre, the Plus X Innovation Hub establishes a blueprint for the office building as a regenerative tool.
---
Plus X Brighton generates 160 times the social and regenerative value of a traditional office space, and 16 times more than a mainstream co-working space"
RealWorth
---
Plus X Brighton formed the first phase of development at Preston Barracks. Since its completion, Plus X serves as a testbed for workspace in a post-pandemic world, and a catalyst for local regeneration in providing employment, host events and an open-to-public café.

In building design, WELL and wellbeing form part of a complex system, one where an expansive network of operational, spatial and servicing requirements holistically connect and complement each other in order to facilitate a healthy and mindful workspace. As the value structures of employees continue to be greater vocalised and subsequently evolved, so must the systems that support them.
A WELL building relies not just on spatial design, but also on a series of enhanced systems, with acoustic qualities and sound proofing, ventilation, lighting and thermal comfort all monitored to ensure a comfortable working environment.
The commitment to achieving WELL measures is a fine balancing act between function and aesthetics. Monitoring the environment requires the installation of additional sensors and hardware, which called for thoughtful layout designs. In another example of lighting layouts, science dictated the alignment, height and distribution of the light modules, over aesthetic niceties such as a centralised alignment. When aspiring for the most comfortable building for the user, function is valued over form.


Plus X benefits from a high-quality base-build and a generous footprint, establishing itself as an inviting, active landscape for building occupants. This is further complemented by its roof terrace and prominent central staircase, that act as social spaces that connect and inspire interaction.
Beyond the advanced integrated technologies and careful architectural design, the building's success is also largely attributed to the operator's commitment to achieving and maintaining these WELL values.
The 11 WELL Metrics
The following list identifies the measures adopted in Plus X to achieve its WELL Platinum accreditation, and reflects on one year of post-occupancy feedback as to the effectiveness of these implementations:

1. Air
The systems and services within the building promote enhanced ventilation and air quality. Low VOC furniture, fixtures and fittings maintain healthy indoor air standards. Air quality is regularly monitored, sources separated and suitable particle filtration in place to cater for specialist spaces in the makerspace and workshop.
In the one year post-occupancy survey conducted by RealWorth, most respondents rated the air quality, airflow/ventilation, and humidity levels to be very good.
2. Water
Breakout spaces provide numerous moments to supply filtered water throughout the building, and water quality is monitored. Operational practices are also in place to provide handwashing facilities to maintain high hygiene standards.
More than half of respondents to the RealWorth survey said that they were encouraged to drink more water as a result of occupying Plus X.
3. Nourishment
Plus X provides a number of different opportunities for, and access to, the provision of nourishment. At the ground floor, a welcoming double-height café provides a community space, and is one of several dedicated eating spaces within the building. Food access, preparation, and quality ingredients have informed Plus X's choice of café operator, ensuring that the delivery of healthy meals is available. Further access to healthy nourishment is delivered by edible plants in the public landscape and Air Space, the building's rooftop terrace.

4. Light
Floor-to-ceiling windows at the lower floors, and expansive strip glazing at upper floors, support natural human circadian cycles. The lighting layout has been designed to ensure a consistent spread of light across each office floor, a strategy which places user comfort as its priority. When brighter task-lighting is required, building users can change lighting levels to suit their needs - an adaptive functionality that responds to its users' requirements.
92% of respondents to the RealWorth survey stated that both the natural and artificial light levels at Plus X Brighton enhanced their ability to work.
5. Movement
Generous circulation and breakout spaces celebrate interaction, idea exchange and collaboration, bringing forward a significant number of WELL metrics that are reliant on spatial measures. A central feature staircase spirals through the lower floors of the building, inviting occupants to walk between floors and socialise in chance encounters. An "art scape" courtesy of local artists Art+Believe and Lois O'Hara, alongside bespoke music with psychoacoustic qualities, drive relaxation and positivity.
6. Thermal Comfort
The thermal environment is continuously monitored. Thermal adaptation is facilitated, both from a technical perspective relative to the building temperature, and also through the provision of blankets at the reception desk on an individual needs basis. Internal blinds are provided to all windows, split between manual and mechanically-operated systems. It is in the response to the individual user that Plus X starts to allude to the workspace of the future, where individual environments can be adjusted dependent on inhabitants and localised workspaces.
The RealWorth survey demonstrated that the response to thermal comfort levels were shown to be positive.
7. Sound
A variety of acoustic strategies have been implemented to manage acoustic privacy and background noise. Quiet zones are labelled within the building to facilitate focussed work. Specialist environments include a recording studio, video conference facilities, private phone booths and acoustically-isolated meeting boxes.
In compliance with WELL, all wall constructions and door specifications were developed with an acoustic consultant to ensure that they perform to high acoustic standards.
The RealWorth survey highlighted a large variation in responses relating to the background noise of Plus X. Just over a third of respondents felt neutral towards the background noise and its influence in their ability to work. Some Plus X members did feel negatively affected by noise from neighbouring offices and studios, despite there being no reports of noise disturbance from activity outside the building. This indicates that background noise at Plus X was acceptable to the majority of respondents, but distracted some occupants.
8. Materials
WELL restricts the use of hazardous materials and expects careful management when permissible. This includes managing hazardous waste and pesticides, using only acceptable cleaning substances, among other operational considerations.
During the designing of Plus-X, strategies were carefully considered to maximise the use of natural and sustainably-sourced materials.


9. Mind
Plus X staff have been trained in mental health to spot signs of stress and provide support to members. Breakout spaces and interstitial landing spaces allow for moments of pause and respite while at work.
The flexible double-height event space on the ground floor, typically used for hot-desking, meetings and presentations, also serves as a space for mindful exercise classes such as yoga and meditation.
Access to restorative outdoor moments and onsite gardening is provided by the generous roof terrace, with celebrated views of the South Downs and English Channel.
10. Community
Plus X places a large emphasis on engaging with its wider community. This commitment is served by the facilities the building offers, including the large ground floor café and event space, which provides for flexible community uses such as exhibitions and sports screenings.
Devised as an extension of the public realm, the ground floor of Plus X establishes a publicly-accessible route through the heart of the building, purposefully designed to establish an extroverted relationship with the wider community. This open and accessible layout facilitates a greater level of engagement with the city than the standard office lobby configuration would.
11. Innovation
Being an innovation hub, Plus X also innovates with regards to WELL and wellbeing in the workplace. This includes pairing with Wellspace, a fully comprehensive wellbeing provider working to improve mental and physical health through a combination of intelligent technologies, real-time reporting, workshops and seminars.
Looking Back…
In the one-year post-occupancy survey conducted by RealWorth, the specific impact of Plus X Brighton on respondents' wellbeing shows a overall positive response, with only one respondent rating below the neutral score of 5.
Plus X is a building where tenants enjoy working within an environment that puts their wellness first - a place where people want to be, and a building where tenants want to work.
To this end, the building and its operators, have undoubtedly benefited from the aspiration to establish a WELL Platinum environment, defying many "efficient" industry standards to the benefit of its members.
Through pre-empting the emerging value drivers of wellness and sustainability, Plus X ultimately establishes a prototype for wellbeing-based, sustainability-focussed workspaces, and demonstrates how it can successfully be used as a placemaking device and catalyst for regeneration.

Plus X Photography - Jim Stephenson
Illustrations - Jarrell Goh
Graphic Design - Sophie Cresswell