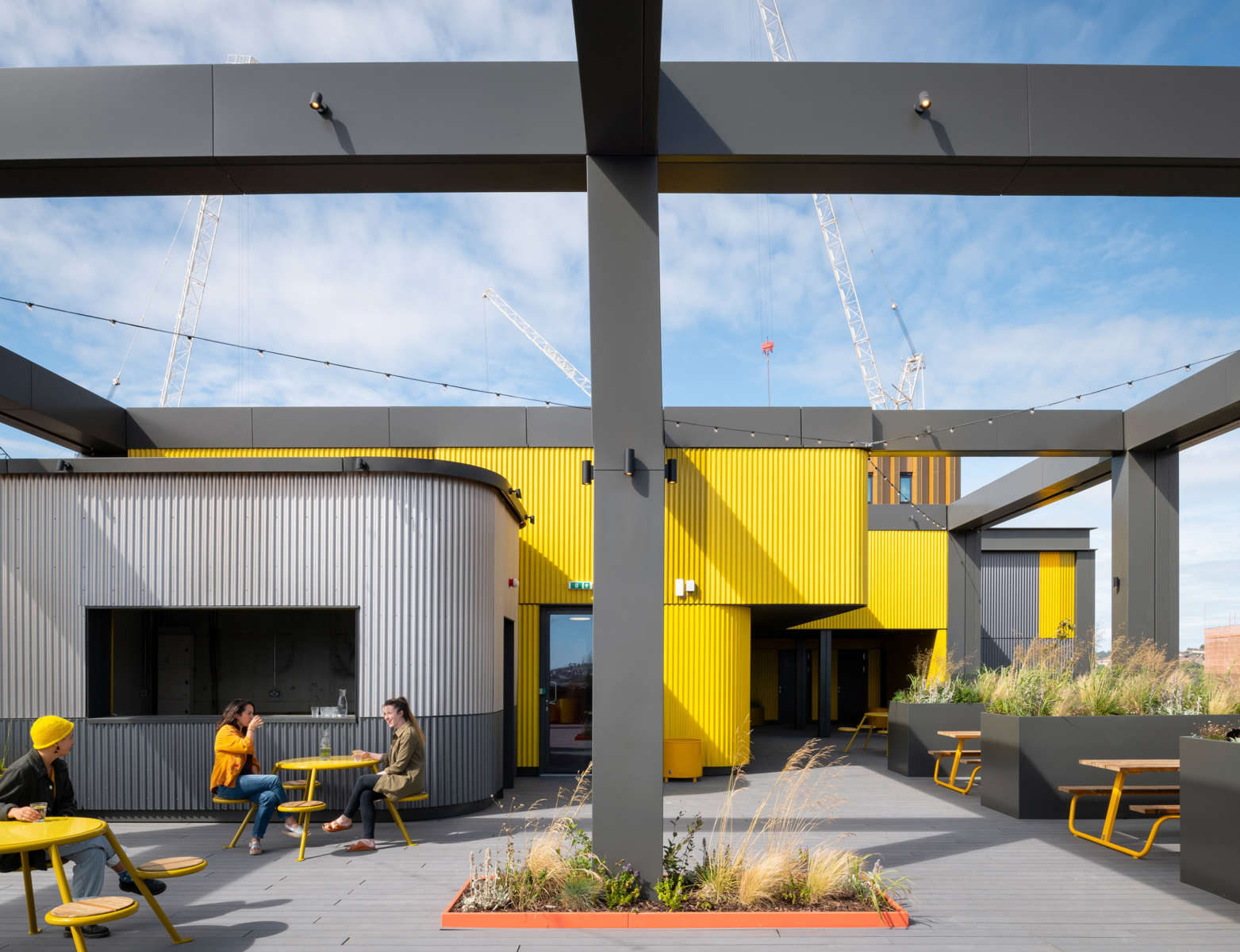 Scroll
This 53,000 sq ft building is set to be one of the healthiest workplaces in the country.
Show info
This 53,000 sq ft building is set to be one of the healthiest workplaces in the country.
Strategy
Plus X is a new localised national network of innovation hubs that aims to transform left behind places and support Britain's new generation of entrepreneurs and inventors.
Role:
Architect, Interior Designer, Landscape Architect


Backed by listed regeneration specialist U+I, Plus X Brighton is the first of these hubs to complete, with this 53,000 sq ft building set to be one of the healthiest workplaces in the country.



Internally, the scheme comprises a number of different flexible work spaces to support businesses of varying types and sizes. At its heart is a three-storey co-working space with digital studios and prototyping labs for the creation of first batch prototypes and state-of-the-art facilities for entrepreneurs, start-ups and scale-ups, whilst more traditional office space is distributed over the four floors above.


In the future, a student will be able to live at Preston Barracks in modern, purpose-built, student accommodation while studying at the brand new business school. The same student once finished with their studies, will be able to move into an apartment and start a business with the help and support of Plus X Brighton. There is an emphasis on community outreach initiatives including sessions and programmes for schools, NEETs and aspiring entrepreneurs, as well as providing space and assistance to local communities.



Occupants will benefit from close ties with academia and businesses, particularly where they have an on-site presence. Follow-on space will be available in the same hub to enable small businesses to grow, ensuring local businesses are retained and continue to benefit the local economy. This is a truly sustainable neighbourhood that offers a long term home to residents and hopes to form a rich and memorable new district.
Specificity
Plus X Brighton has been designed to be flexible and reactive to member demand and changes in the market. The floor plates from ground to second floors are split into two halves, allowing businesses to grow and evolve within the building. This also creates an impressive triple height atrium linked by a series of unfolding bridges and stairs, encouraging users to circulate throughout the building and find moments of interaction and inspiration.


Adopting a contemporary and layered aesthetic that reflects the dynamic nature of Plus X Brighton, the bright and open yellow façade hints to the open exchange of knowledge and vibrant activity of the spaces inside. Drawing in the materiality of the building's façade, the key circulation space is also clad in yellow aluminium, pared down with the use of birch-ply clad meeting boxes and panelling. These hanging meeting boxes provide a dynamic backdrop to the ground level seating, café and flexible event space, which together form a key interface between the public and working areas within the building.


With an abundance of natural light flooding in through expansive strip windows, the building is punctuated with dramatic lighting features such as Atelje Lyktan's Hood pendant, which function as both a focused lighting source and sound barrier.



Throughout, the fixtures, fittings and foliage have been carefully curated to create a relaxed, collaborative atmosphere, where ideas can be exchanged and innovation can flourish.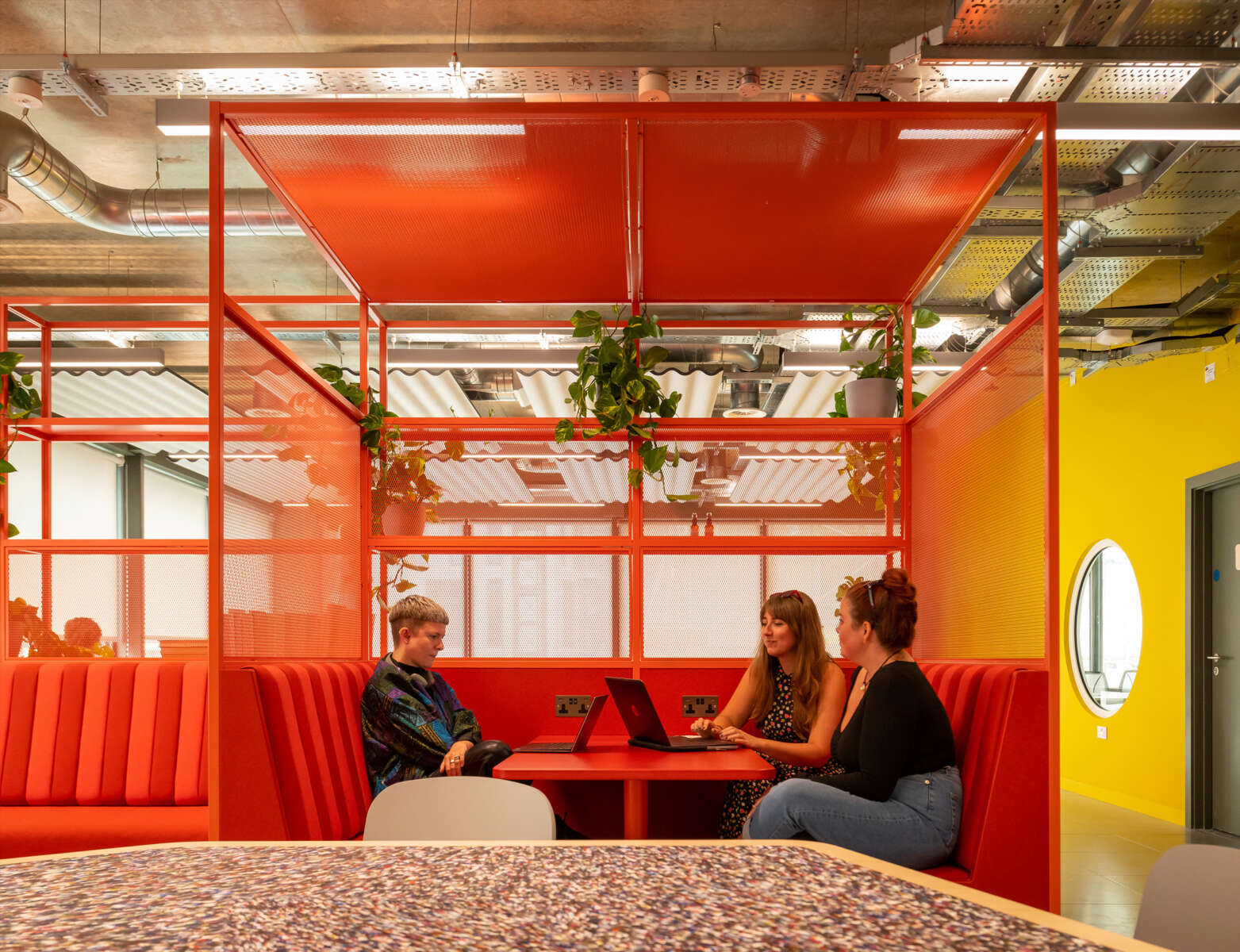 Plus X Brighton also features Brighton's first rooftop terrace, which is designed to enhance biodiversity with edible plants and herbs and offer occupiers an additional social space. Ornamental grass planting and unique perennial plants reference the qualities of the nearby South Downs nation park, while seasonal changes to the light, colour, scent and texture of the plants will ensure the atmosphere of the terrace also changes throughout the year.

The material and colour palette of the planters, decking, and furniture has been developed to match that of the interior colour scheme, ensuring consistency across the building.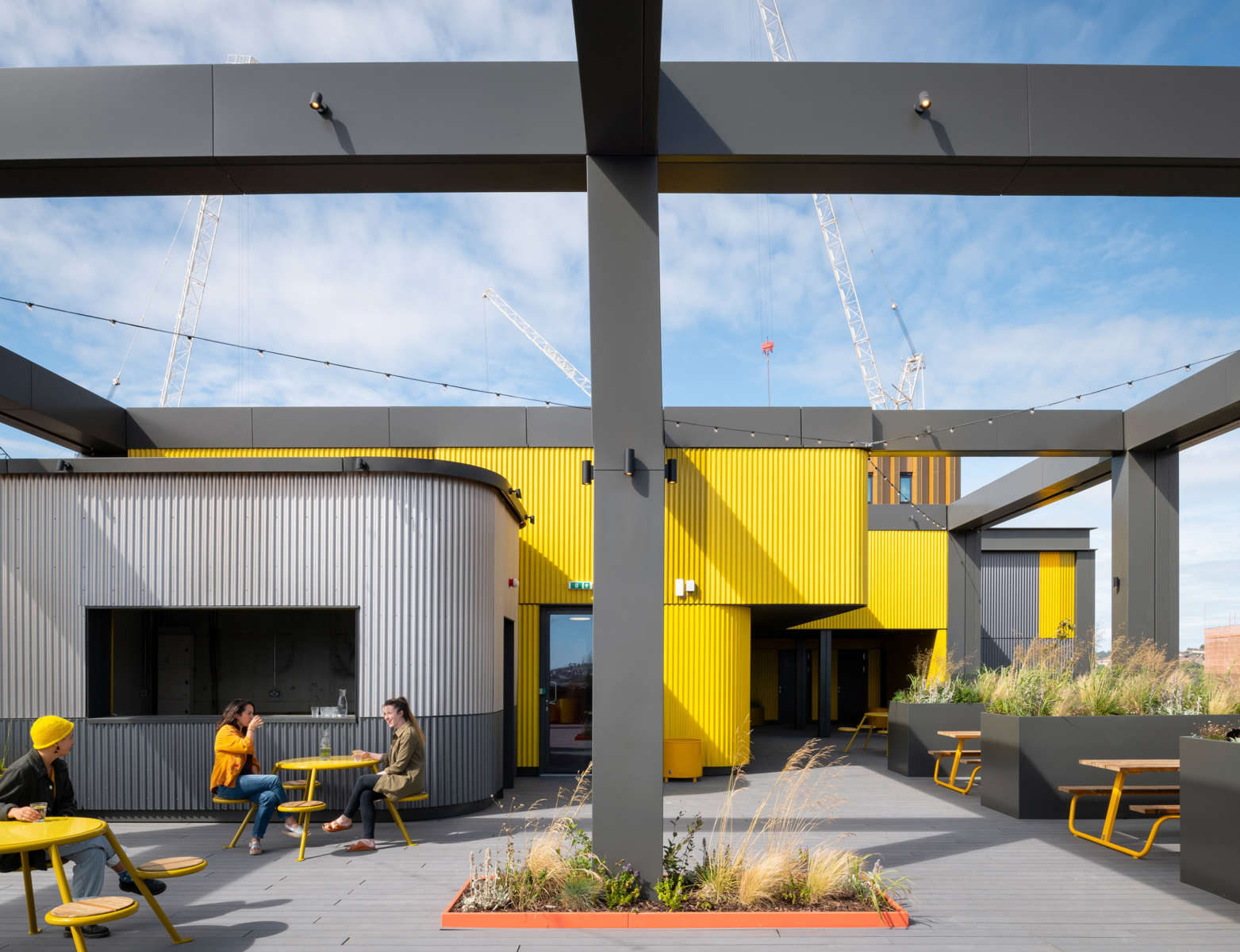 Sustainability
Plus X Brighton will join a handful of international buildings to be accredited Platinum standard by the WELL Building Institute, a global marker of building design focused on wellbeing. Air quality is monitored, whilst a 'biophilia strategy' incorporates plenty of greenery, allowing people to enjoy the benefits of nature both inside and out. The building is also highly sustainable and has been designed to achieve BREEAM Excellent and an EPC B Rating. Features include green electricity, solar panels, as well as a zero waste to landfill policy and locally sourced produce in the ground floor café.




Beyond its high environmental credentials, Plus X buildings are unique in that they are purpose-built and will be tailored to the specifics of the local economy and the existing talent pool, with Plus X Brighton built on themes around the circular economy and digital media. By supporting local innovation, Plus X can catalyse economic activity within left behind areas, attracting further occupiers and accelerating the virtuous circle of business activity essential to the success of large-scale regeneration schemes. A Real Worth study found that a Plus X innovation hub will deliver 160 times more social economic value than a traditional office and 16 times more value than a traditional co-working space.

The next of the hubs will be Plus X Hayes, designed by Pilbrow and Partners, and which sits within Studio Egret West's and U+I's framework for The Old Vinyl Factory, with U+I also exploring opportunities to develop Plus X hubs in Oxford, Greenwich, Manchester, and Birmingham.

Awards
Year
Category
Award
Status
PLATINUM Standard - Well Certified Building Standard
BREEAM Excellent - BRE Certified Rating
Best Workplace Interior - Design Week Awards 2021
Best Commercial Co-working Space - People's Choice Award, Architizer A+Awards 2021
Workspace of the Year - Finalist, STARTUPS Magazine Hustle Awards 2021
next