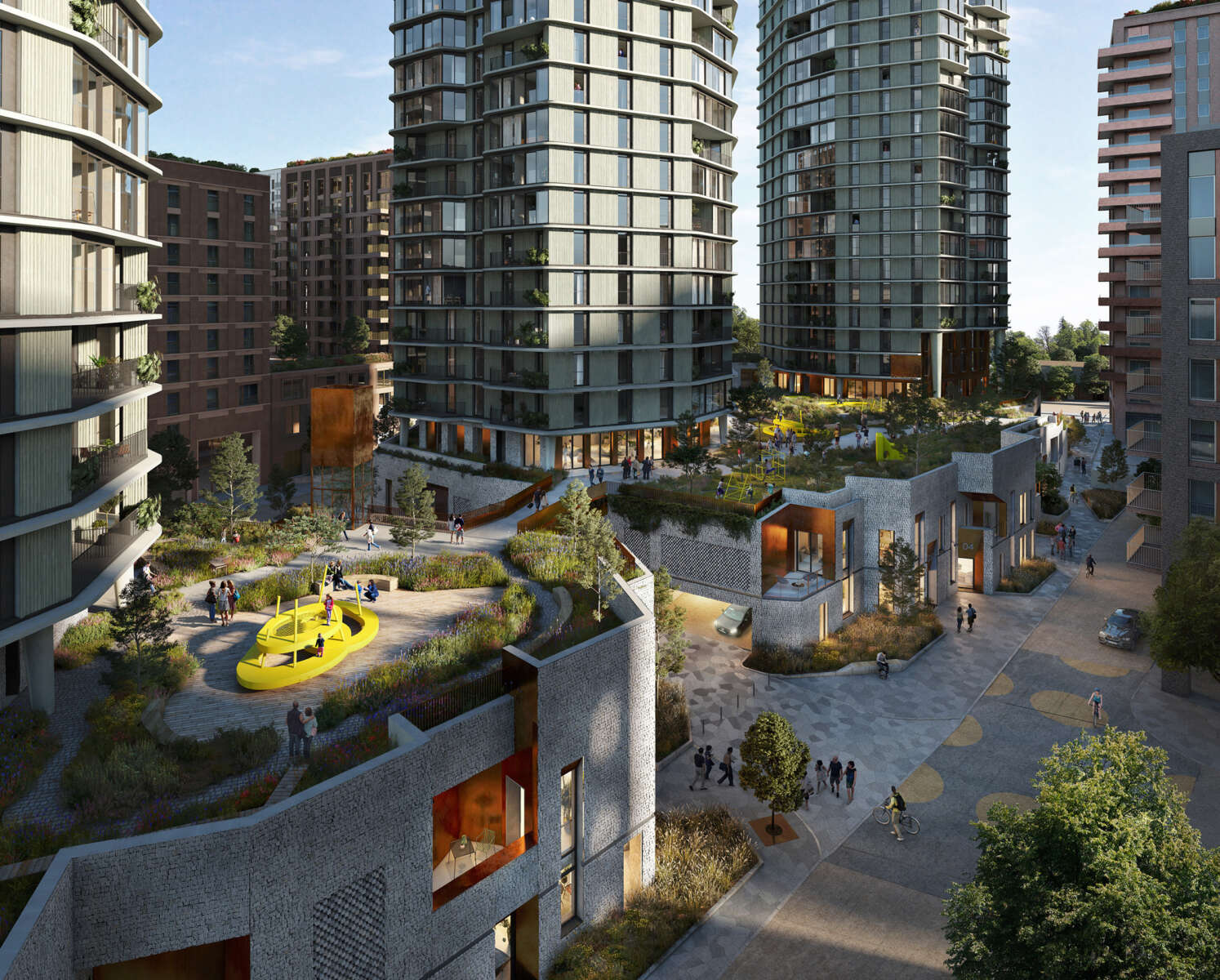 Scroll
An exemplar in high density design, The Rockery at The Hyde transforms a brownfield site into a new multi-layered, mixed-use community.
Show info
An exemplar in high density design, The Rockery at The Hyde transforms a brownfield site into a new multi-layered, mixed-use community.
Strategy
Occupying a prominent frontage along the busy Edgware Road in Hendon, North London, is our site. This 0.87 hectare plot currently comprises a car showroom and servicing centre, alongside garages and surface car parking. These uses reflect the area's history of industrial occupation, which today is interspersed between medium and low rise residential neighbourhoods, with a number of high density schemes consented immediately around our site.
Client:
Parkside Investments
Role:
Urban Designer, Architect and Landscape Architect
Status:
Planning Submitted



Within the borough there are also areas of considerable natural beauty, such as Brent Reservoir, but these have gradually been hidden away by the development of the last century. With this evolving context, and working with our client Parkside Investments, we set about to repair the disjointed urban grain, and craft a place for a multi-generational community to belong - 'The Rockery at the Hyde'.
Our mixed-use scheme derives its name from the historic local Hamlet, 'The Hyde', whilst "Rockery" gives literal reference to the terraced public open space and rockery-like character of our landscape-led design approach.

We've taken the opportunity to bring back nature and amplify it throughout the site wherever possible, enhancing biodiversity and introducing a significant amount of high quality public realm improvements at both street level and through a publicly-accessible stepped garden. Extending the length of the site, and sitting above two double-storey podiums that are linked via a pedestrian bridge, the stepped garden weaves playful interventions amongst verdant and sensory planting.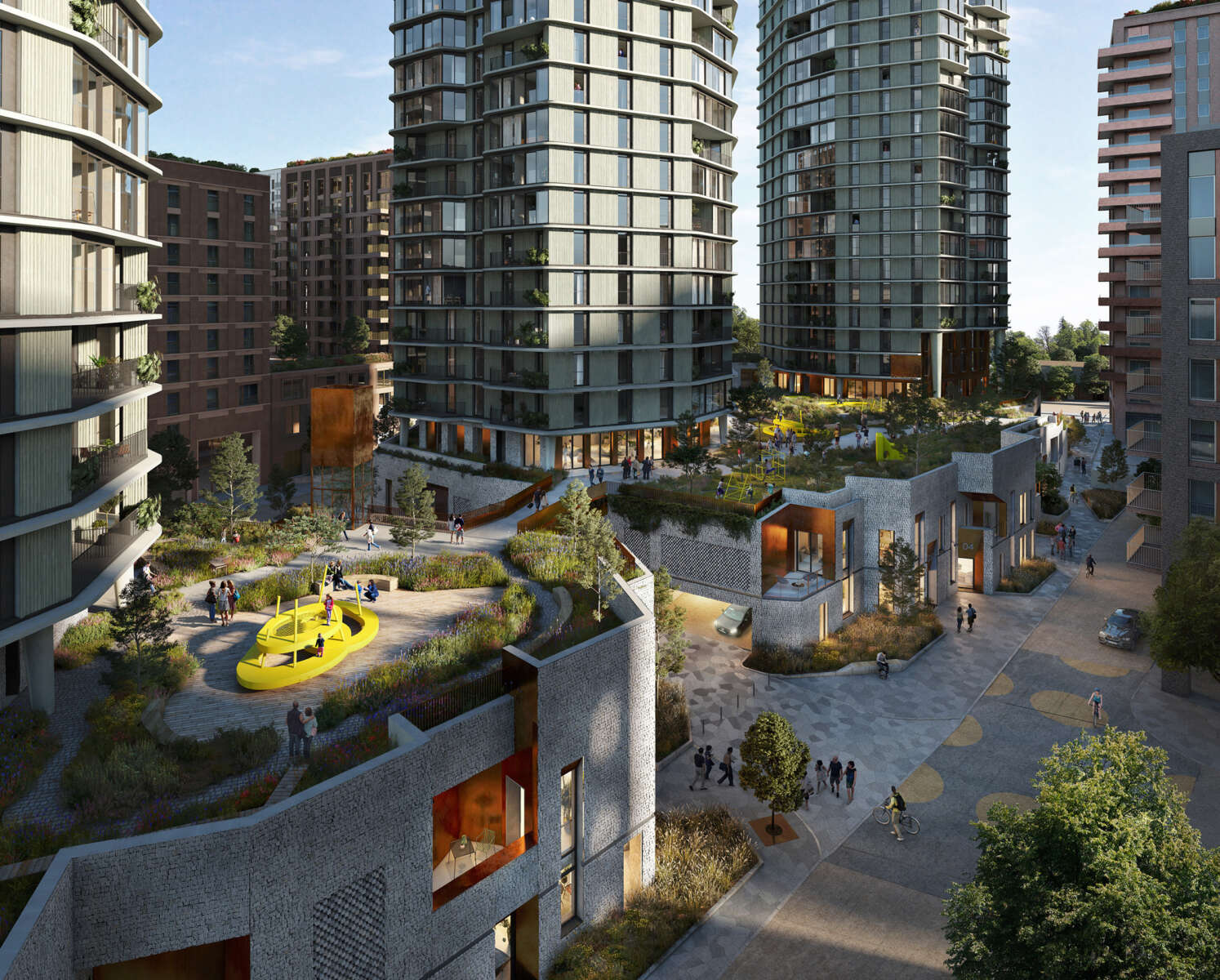 Inside the podiums, we're re-providing the existing site employment accommodation as flexible workspace. These are configured to allow for a range of entrepreneurs and makers to flourish, and complimented by a café and dedicated community spaces which activate the streetscape.
Sitting above the podiums and arranged over three buildings ranging from 20 to 24 storeys, are 470 tenure-blind homes, 35% of which are affordable. Through this proposed mix of employment opportunities, homes, and extensive public realm, The Rockery at the Hyde will transform a brownfield site into a place that is sociable, sustainable and safe for all.

Specificity
We've carefully crafted the design of the podiums to provide a positive interface and coherent edge to the existing and emerging street boundaries, repairing a long-fragmented condition through the creation of active frontages and clear public walkways. The podiums step down to ground in three locations to provide public access and visual intrigue, whilst allowing for a rockery like form to emerge when viewed from the street.

This character will be further emphasised through the use of a textured stone façade material and complementary planting, whilst bronze accents are added to important openings as well as cutaways, like the iron colour surprise found in a cut rock.
Our approach to the residential buildings is a response to the consented developments to the immediate north and south of the site. But rather than continue the prevailing rectilinear townscape that is coming forward, we've purposefully departed from it, and sculpted three octagonal block forms. These buildings relate well to the existing site geometries, whilst allowing more air and sunlight in between them.

Careful rotation of the forms and carving of the roofscapes allows optimal aspects and views out, with internalised private amenity space interchanged with inset balconies to create a staggered façade with interesting depths and reveals.


Sustainability
The Rockery at the Hyde plays an important role at both a strategic and local level. Delivered over two phases, the first phase of homes will be 100% affordable, creating much needed new residences for the borough. Meanwhile, the public realm provision, as well as the employment opportunities and flexible community spaces, provide the careful balance of uses required for a resilient and diverse new neighbourhood to come forward.

Inspired by the wider pockets of natural beauty in the borough, we've made enhancements for wildlife and biodiversity throughout the scheme to ensure it becomes a highly valuable piece of green infrastructure.
Living roofs on each of the three residential buildings help to replace the disappearing open mosaic habitats of London, whilst climbing plants and balcony planters are a key part of the façade design and provide significant ecosystem services while taking up virtually no floor space and with little maintenance requirements.
The podium gardens will be generously planted with a combination of native and non-native plants and trees, all of which will be chosen for their drought tolerance and benefits to wildlife. Trees are also selected for their resilience to the changing climate and their ability to deal with extreme weather – both dry and wet

The verdant podium gardens descend down a stepping landscape to the ground level and public realm, where we're providing a generous pedestrian experience through widened pavements and enhanced landscape to further the growing green network of healthy streets. This enhances the pedestrian and cycle environments while reducing reliance on vehicular movements, helping to establish The Rockery at the Hyde as a place of discovery with multi layered edges, play, and respite from the congested street condition of Edgware Road.

Awards
Year
Category
Award
Status
next