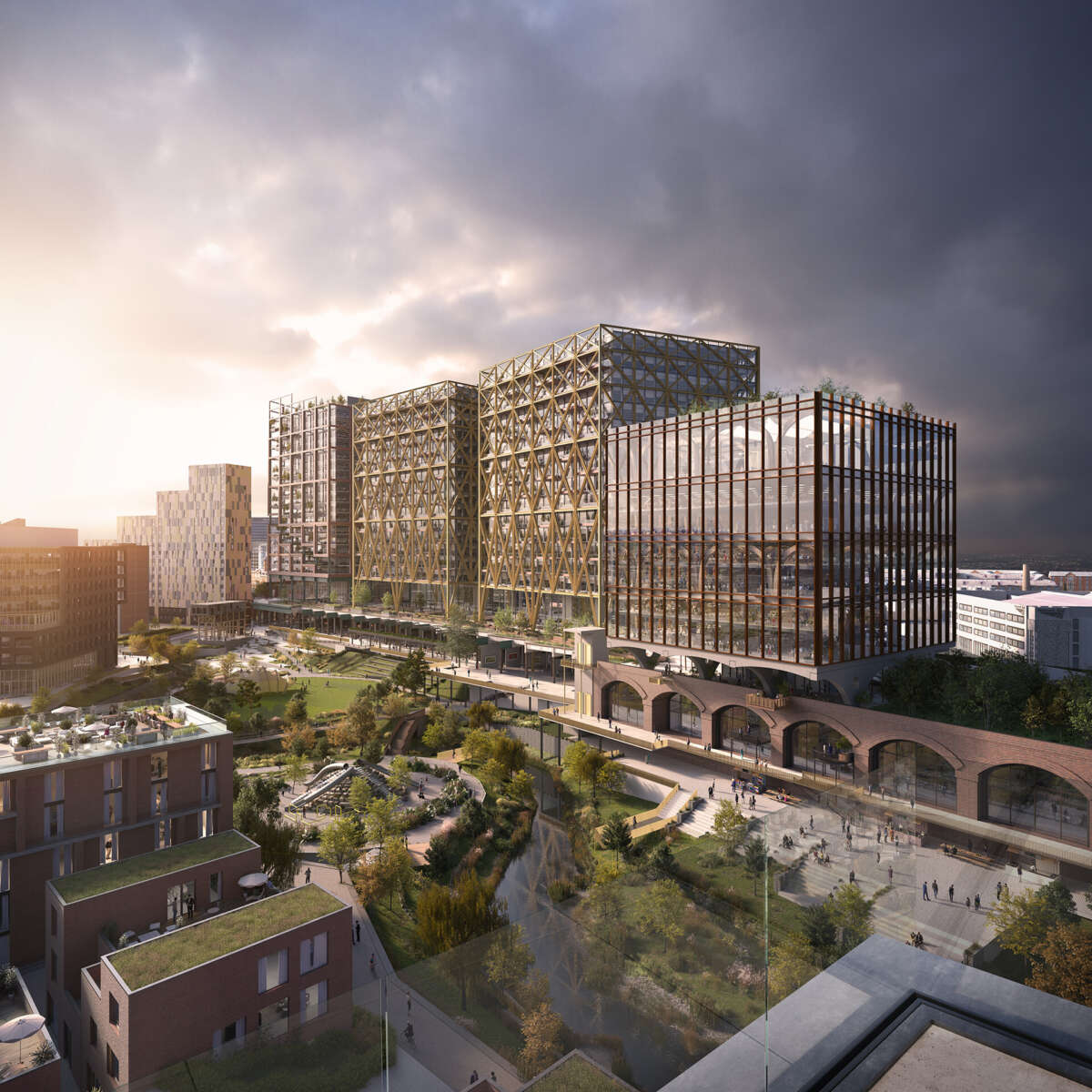 Scroll
Mayfield's rich and layered history has informed every element of our framework plan for approximately 1,500 homes, one million square metres of office space, a 350-bedroom hotel, retail and leisure facilities, and the new 6.5-acre Mayfield Park.
Show info
Mayfield's rich and layered history has informed every element of our framework plan for approximately 1,500 homes, one million square metres of office space, a 350-bedroom hotel, retail and leisure facilities, and the new 6.5-acre Mayfield Park.
Strategy
The former Mayfield Station and depot is ready for a complete transformation, and we are breathing new and much-needed life into this 24-acre derelict site. On its way to becoming a thriving mixed-use community in the heart of Manchester, it will reshape and extend the city towards Ardwick, building on the benefits of the Northern Hub rail expansion plans and acting as a catalyst for the regeneration of the wider Piccadilly area.
Client:
The Mayfield Partnership
U+I Group Plc
LCR
Manchester City Council
Transport for Greater Manchester
Role:
Urban Designer, Architect and Landscape Architect


We are the urban designers and lead architects for Mayfield, as well as the landscape architects for the new park, and we are supported in our bold and transformative vision by a strong public-private partnership. The scheme is a joint venture between regeneration specialist U+I and The Mayfield Partnership, which is made up of LCR, Manchester City Council and Transport for Greater Manchester.


From the Hoyles Calico printing and dying factory, one of the most famous textile factories in the 1800s, to the Mayfield relief station of the early 1900s, Mayfield has a rich and layered history.


It's this industrial landscape which has informed every element of our framework plan for approximately 1,500 homes, one million square metres of office space, a 350-bedroom hotel, retail and leisure facilities, and the new 6.5-acre Mayfield Park.
Specificity
The former Mayfield Station and depot had lain dormant for over thirty years and had been earmarked for demolition. We recognised its heritage value and successfully made the case – with a compelling narrative alongside evocative and detailed illustrations – to bring it back to life as a flexible events destination.




We see the Mayfield Depot as an extension of the landscape, and the city-facing station building will provide a welcoming space for exhibitions, conferences and community events.

One of our first moves was to deliver an elevated temporary office space, the Gatehouse, which has become U+I's site office along with flexible, low-cost workspace for start-up businesses and community groups.
Since then, we've created a popular market space, now one of the most popular street-food destinations in Manchester, and Vibration Group have reinvented the Depot as a 10,000-capacity venue which has already played host to Manchester Pride Live, Manchester International Festival and major artists including Aphex Twin and Skepta.


In mid-July 2020, the Mayfield Depot welcomed the opening of Escape to Freight Island, a new urban market and immersive festival-takeover space. Venue highlights include a 70s New York-inspired roller disco, a hidden high-fi audio bar and karaoke venue, and a retro arcade games zone - all interspersed throughout food, drink and family-focused happenings.
Eventually these characterful arches will also become home to creative workspace, along with the lobbies for both the new hotel and office buildings above.
Sustainability
We wanted to create a buzz on the site from day one, paving the way for the social, economic and environmental benefits to come, and we've done this with a host of pop-up and meanwhile uses. We are reinventing a once-derelict building, promoting its reuse over its demolition to ensure that embodied energy is not wasted. And by selecting materials carefully – again to minimise embodied energy – and maximising recycled content, we're targeting a BREEAM 'Excellent' rating.



Mayfield Park
Opened in September 2022, Mayfield Park is the first new city-centre park to be created in Manchester in the last 100 years.
The 6.5 acre park provides accessible green space and a huge new public play area, with slides resembling chimneys from the site's past. The whole park has been imbued with a post-industrial character and propelled by a climate-change-aware approach to placemaking and landscape urbanism.

Studio Egret West performed as the lead landscape architect and park designer.




The River Medlock
At the height of the Industrial Revolution, The Mayfield site was the home of the Thomas Hoyle's Print Works which was established in 1782. Hoyle chose the site because he needed ready access to the water provided by the River Medlock.
Before Mayfield Park came to be, this portion of the River Medlock was clogged, unappealing and almost entirely hidden from view - culverted underneath industrial warehouses and bordered by high walls.

Uncovering the river is a defining move for this nature-first, landscape-led proposition. Rivers provide important wildlife corridors, and revealing the River Medlock unlocks its potential as an important biodiverse habitat.

Since the park's debut, the river has played a key role in attracting wildlife back to the area, with trout, wagtails, kingfishers and ducks now frequently spotted in the area.


The Mayfield Lawn
One of the largest areas of the park features a generous lawn space, fit for recreational sports, play and picnicking. Specially-cultivated, lush, high-density "festival" turf carpets this area, creating a comfortable cushion-like surface for all ages to enjoy.
The Mayfield Lawn is also designed as a flexible space for events and festivals, with high-quality integrated utilities and infrastructure. Reinforced anchor-points for stage setups, sunken electrical provisions, and under-path cabling are some of the carefully considered provisions for streamlined event hosting.

Planting Design
Mayfield Park features a naturalistic planting design that can adapt to changing climate conditions. Our design for the park includes sequences of different plant arrangements, planting beds, and grasslands, to create journeys through distinct character spaces.

The site has a history of producing purple dyed textile prints through during the Industrial Revolution, and we reflected this by incorporating purple plants throughout the park, especially at the entrances. Travelling further into the park, purples are dispersed in small groups to add accents within the planting beds. These selected plant species exhibit overlapping flowering periods to provide a continuous presence of purple from spring to late autumn.



The planting design at Mayfield is mindful of both dry and wet extremes. The plant mix creates a visually striking - yet functional - landscape that is able to withstand the spectrum of different environments of the site.

In drier areas, the plant selection takes into account their resilience based on topography and sun exposure. A large south-facing embankment takes inspiration from the railway embankments adjacent to the site, as a conceptual interpretation of local wildscapes often seen alongside railway tracks. These drought-tolerant plants were chosen to withstand the warmer and drier conditions, and have proven to be very resilient following the incredibly warm temperatures experienced during the recent summer heatwaves.

In areas designed to accommodate flood water and high river flows, nature-based systems intercept and slow water discharge and encourage evapotranspiration. For example, rain gardens feature moisture-tolerant planting that absorbs excess surface runoff, instead of allowing rain to drain into the river and contribute to flood risks downstream.

Indigenous plants are primarily located along the river corridor, with a focus on creating a connected ecology for wildlife. These areas can be challenging for planting due to fluctuating water levels, so we developed pre-planted systems to ensure instant impact and increased resilience to weed growth, flooding, and drought. The floodplain wildscape is populated with a careful selection of plants that are able to tolerate periodic flooding, ensuring that the planting design also caters to extreme weather events.

Over 140 new trees have been planted at Mayfield, adding to the park's diverse planting design. This composed of 45 different tree species, which is an impressively large variety for a new urban park. These included acers, birches, pines and poplars – just to name a few.

Large semi-mature specimens were brought to the park – some already over 10m in height – in order to quickly kickstart the establishment of new habitats for wildlife. Dead log piles, bird boxes and bat hides were installed around the trees, encouraging animals to visit and nest, and was an important step in the development of a diverse and sustainable ecosystem at Mayfield Park.




Relicts of the Past
The chosen material palette is a key part of the park's Mancunian grounding. To maintain the site's post-industrial aesthetic and Mancunian authenticity, we've chosen materials to reflect the details and features we originally found on site. Concrete incorporated locally-sourced aggregates, including red and pink tones that complement the warmth of the nearby red brick mill and rail archways. Staffordshire blue brick references the striking palette of the adjacent depot building.
We also found innovative ways to preserve and present the industrial heritage of the site. Many old site artefacts – such as structural beams, old bridges, and original brickwork – were saved and repurposed for the park.
Not only was this a sustainable re-use of existing materials, but also a meaningful design move that rooted the new park in its history, and created an atmosphere of inquisitiveness and discovery for visitors to engage with.







The Play Yard
Where the river comes closest to the northern edge of the park, it begins to sculpt a peninsula-like area. This space has a visibly prominent position in the park and appropriately accommodates the landmark destination play space.
The Play Yard features six 10-metre tall towers, the most adventurous of which features a rope bridge and slide that spans over the River Medlock.





The towers were inspired by the archaeological remains of octagonal industrial chimneys found on site, and were collaboratively designed with local play-specialists Massey and Harris.
A highlight of the design includes a fully-accessible play tower and slide, which allows children in wheelchairs to also enjoy the play space alongside their friends.

The Future of Mayfield
Mayfield Park is a truly innovative and sustainable project that has been lauded as the standard for future urban park design. Its unique and thoughtful approach to landscape design has resulted in a park that is not only designed for the present, but also prepared to adapt and remain relevant, flexible, and enjoyable for decades to come. The park's commitment to sustainability, evident in its approach to material use and construction, is also noteworthy and serves as an example of how we can harmoniously blend sustainability with landscape design.

As the central oasis of the new Mayfield neighbourhood, the park forms an important part of the community. With the next phases of the masterplan continuing to develop, we are excited to see how Mayfield Park grows and thrives in the coming years.

Awards
Year
Category
Award
Status
Northern Design Awards 2022 - Amazing Space (Shortlisted)
MIPIM AR Future Projects 2020 - Regeneration and Masterplanning (Winner)
Planning Awards 2020 - Best Use of Brownfield Land in Placemaking (Winner)
Planning Awards 2020 - Plan-Making (Shortlisted)
The Pineapples 2020 - Contribution to Place (Shortlisted)
The Pineapples 2020 - Future Place (Shortlisted)
RTPI Regional Awards for Planning Excellence 2018 - Best Planning Policy Document (Winner)
next