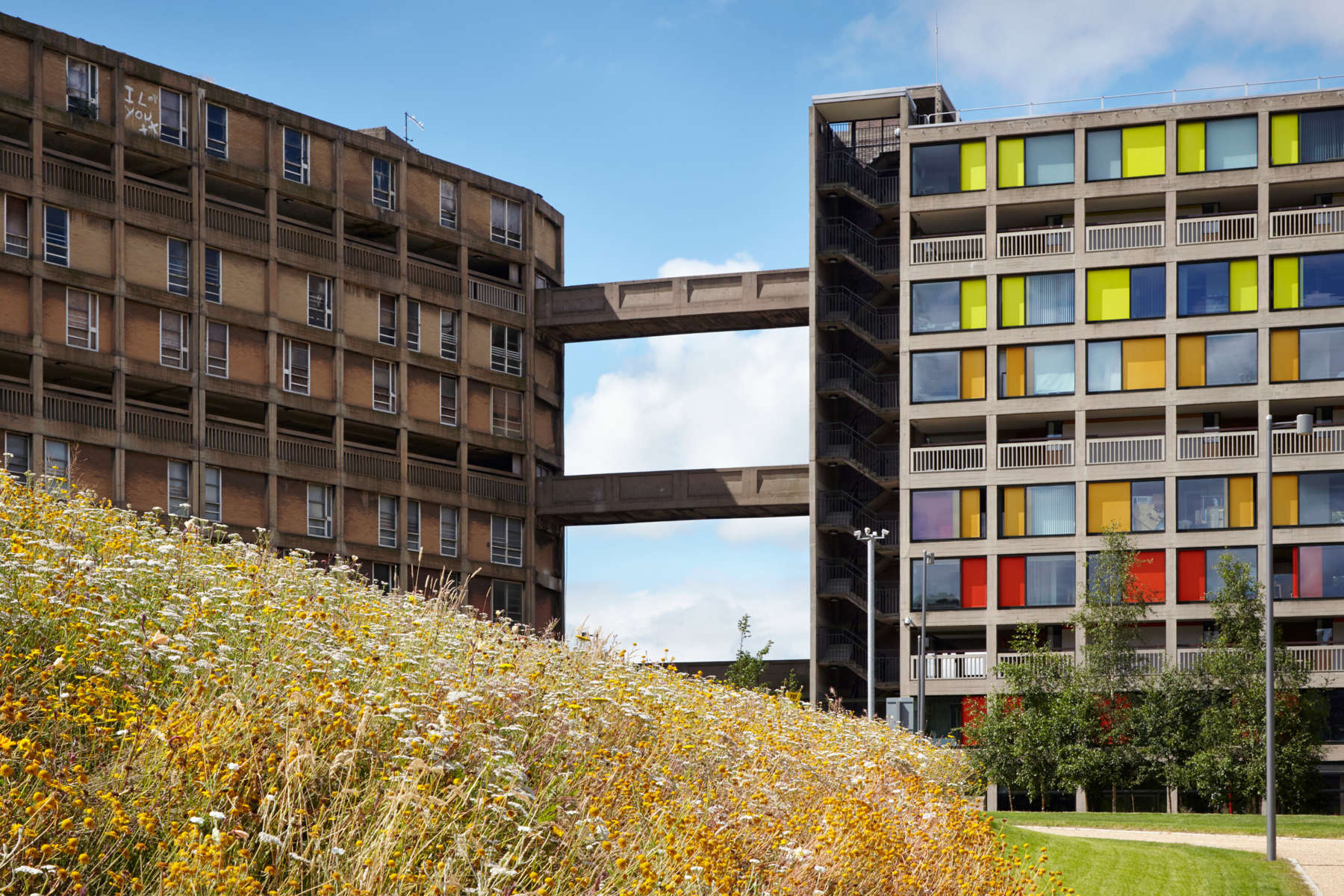 Second Lives
Second Lives is one of Studio Egret West's key place making principles
Scroll
---
Second Lives is one of SEW's key placemaking principles, encompassing our belief that an evolutionary, additive approach to existing structures can create a more compelling architectural response and, fundamentally, permits for a more environmentally sustainable practice.
We look at places with a tabula plena (or ''full table'') approach, where we start with the premise of working with any memorable structures or features we find on the site and repurposing as many elements as reasonably possible. This approach has manifested in many of projects, including:
Park Hill, Sheffield
Our interest in the second lives of existing structures was ignited by our work on Park Hill in Sheffield, the longest listed building in Europe which was disliked by many people because of its forbidding scale. The only reason Park Hill survived is because it is a listed building, but someone had to find a way of bringing it back to life. Working closely with developer Urban Splash, architectural collaborator Hawkins\Brown and landscape architects Grant Associates, we re-energised the structure and the landscape, adding layers of colour and comfort. Park Hill is now a thriving community and destination, with our masterplan and first phase of homes and commercial units –including the Grace Owen Nursery School – shortlisted for the 2013 RIBA Stirling Prize.
Mayfield, Manchester
Our involvement on Mayfield in Manchester began in 2016 through a competition process, where, working with our client U+I, we shaped the winning entry that went against previous plans to demolish much of the site's existing heritage assets, instead choosing to save the former Mayfield Station building and depot. We recognised its heritage value and successfully made the case to bring it back to life as a flexible events destination, which has now been realised with the help of The Mayfield Partnerhip and We Must Be The Place, who are overseeing an exceptionally well-received programme of meanwhile events. In later stages of its evolution, the city facing former station will also provide the welcoming foyers that invite people in to these commercial areas, with an array of showcasing, exhibition, conferencing and community spaces. Compact lobbies for a new 250 room hotel and approximately 1 million sq ft of office buildings will also be accommodated, with creative workspace housed in the characterful arches along Fairfield Street.
The Old Vinyl Factory, London
In Hayes, West London sits a 7-hectare site that is the former home of the Gramophone Company, later His Majesty's Voice and latterly EMI. When we first visited in 2012, it was known as 'London Gate' and was being used as a business park dominated by surface car parking. The original Art Deco buildings, designed by Wallis, Gilbert and Partners, were largely abandoned, the site was designated employment land and there was significant opposition to a change of use. Our approach was to celebrate the area's extraordinary history, bringing existing buildings back into use and unlocking the site's potential for a new mixed-use neighbourhood. After extensive investigation into the morphology of the place we renamed it 'The Old Vinyl Factory'. The discovery of an original site plan revealed the rich underlying narrative and highlighted the footprint of specific buildings and processes that had gone before. This inspired us to name each of the plots within the framework and distil specific characteristics for each of the buildings and public spaces, including The Boiler House -which we completed in 2018 - where a cluster of tapered volumes clad in stainless steel shingles is an ode to the steam chimneys that once stood in its place.
Having established the new employment or community uses for the existing buildings we then introduced additional uses such as a cinema, college, workshops, restaurants and a crèche that will assist in creating a destination. These are clustered around The Power House which we have given a new lease of life as a district wide energy centre, adding a strong sustainable presence on the site. Collectively the new uses animate a series of vinyl inspired public spaces including Vinyl Square, Gramophone Grove and Powerhouse Square - all designed by SEW - which create the platform for day-to-day living, working and events.
The Movement, London
At The Movement in Greenwich, our main focus was on the smaller mixed-use activities, which included an extension to the Greenwich West Community Centre. The project recognises the importance of the existing community centre which sits at the heart of the urban block as it faces Greenwich High Road; acknowledging both its importance in terms of the opportunity to create enhanced community facilities and interface with the new development, as well as how this busy and vibrant building could be extended to both improve these facilities and create further valuable animation to the proposed new public realm. The gold shingle cladding emphasises the importance of this small building as the jewel within the scheme. In addition to creating an opportunity for the existing facility to generate revenue from the café and room hire, the work includes a careful re-working of the existing building to improve the accessibility with a new ramp and much needed accessible toilet facilities.
Balfron Tower, London
Ernö Goldfinger's 27-storey Balfron Tower in east London had fallen into disrepair. Guided by Goldfinger's original vision, we've worked with developers Londonewcastle, Historic England and the London Borough of Tower Hamlets to bring the tower into the twenty-first century. Our approach has been one of 'constructive conservation', an exercise in making the most of the embodied energy of the existing materials whilst respecting Goldfinger's legacy. We've worked with, not against, what's already here. This significantly reduces the building's carbon footprint and will ensure it performs well in the long term.
Our role has also encompassed the landscape architecture as well as the architecture, and giving this landmark building a second life was always about taking a broader view. We've preserved and celebrated Balfron Tower, improved the setting of next-door Carradale House – also by Goldfinger – and enhanced the Balfron Tower Conservation Area. Working with the community helped us understand how the public spaces, and especially the new public square, would bring the whole estate together, and we thought carefully about how the landscape around the tower would reconnect it to the wider area. It isn't just about the tower but about the whole estate.
Erith Quarry, London
Continuing on the capacity for the Second Lives of landscape, our work has unlocked a new purpose for Erith Quarry in Bexley, south-east London, a site that had long been considered unsuitable for development but is only 40 minutes by train from central London. As masterplanners, architects and landscape architects, working in partnership with developers Anderson, we're creating a whole new neighbourhood, which includes a three-form primary school, 650 new homes and a new ecological park. The disused quarry was first used for landfill and then abandoned, giving nature and wildlife a chance to take over – a quality we were keen to preserve. The site in its original state supported a diverse range of invertebrates, but was also contaminated by Japanese Knotweed and other invasive species. Our masterplan protects the most ecologically valuable parts of the site and maintains a mosaic of different habitats, all while ensuring that invasive species are prevented from recolonising the site.
We continue to work on a plethora of places where we are championing Second Lives, including our Bow Common Gasworks in East London, The Custard Factory in Digbeth, Birmingham, and, of course, Smithfield Market, where we are leading on the delivery of concept designs for the transformation of the Grade II*-listed historic structure into a sustainable and flexible mixed-use commercial, creative and cultural quarter.