Crafting a Sustainable Community for Digbeth
Creating a strong sense of place
Scroll
---
For the last two years, I have been a part of the Studio Egret West team crafting a framework for Digbeth, where we are aiming to create a strong sense of place by enhancing the distinctive industrial character of Digbeth, improving the public realm, and enabling trade, industry, craft and making to coexist with homes. Together, we're crafting a sustainable community for Digbeth.
Digbeth is a historic neighbourhood with its heritage rooted in trade, industry, craft and making. It is now a creative hub within Birmingham and home to a rich array of small businesses and activities, including design, making, art, tech, innovation, music, film production, gaming, and education. The ambition is to retain the existing creative community and provide opportunities for existing tenants to grow and expand, while attracting new creative companies to the area that recognise and appreciate the distinctive character Digbeth has to offer.
Today, Digbeth is characterised by its rich and diverse built heritage. The area's significance is its complex and organic layering of industrial buildings, infrastructure, waterways and street art. The interaction of these elements creates moments of surprise within the urban form and a sense of discovery that is unique to Digbeth. Several of these almost accidental juxtapositions, such as the point the River Rea passes under the Bordesley viaduct, are some of the most intriguing moments in Digbeth, and provide a reminder of Birmingham's industrial heritage. Many buildings throughout the area have been modified over the years, creating peculiar "imperfections" on the facades of the buildings that add authenticity to the place.
Our framework aims to celebrate these juxtapositions and imperfections, enhance the setting of the existing buildings, and encourage characterful architecture that can contribute to the rich tapestry of the area. In recognition of the diversity of architecture that characterises Digbeth, Studio Egret West have worked with local designers Glenn Howells Architects and BPN Architects to ensure the rich and varied character is retained going forward.

At Studio Egret West we promote flexible 'frameworks' over fixed masterplans. The framework for Digbeth represents a long term vision for Digbeth that ensures flexibility for evolution, whilst establishing a coherent approach across the site that allows individual development plots to come forward within an agreed set of site-wide principles. This approach avoids the creation of a homogenous architectural response and encourages creativity for the longevity of the framework.

In recent years the public realm in Digbeth has come to be characterised by poor lighting, over dominance of cars, and a lack of high quality public space. Addressing these issues and creating high quality public realm is key to our placemaking strategy. Our framework will improve street lighting, reduce on street parking and provide a more pedestrian and cyclist friendly public realm. The public realm improvement will preserve the sites distinct urban character while introducing planting that is inspired by the wildness of much of the existing self-seeded plants seen in Digbeth today.
The historic and ecological values of Digbeth waterways, the River Rea and Grand Union Canal, will be revealed and celebrated by the framework, with a series of open spaces along the waters edges inviting people to step down, enjoy and rediscover these natural assets. New public spaces will be rooted in the history of the place, with designs that respond to the particular character and use of the adjacent buildings.
---
New life will be breathed into the redundant and unused Duddeston Viaduct, which will be transformed into a new elevated linear park, Viaduct Park. Here, a mix of informal urban green spaces through to more natural and wild spaces will create different atmospheres and enrich the journey experience along the viaduct, creating a verdant destination within the city centre and opening up new views across Digbeth and back to the city centre."
---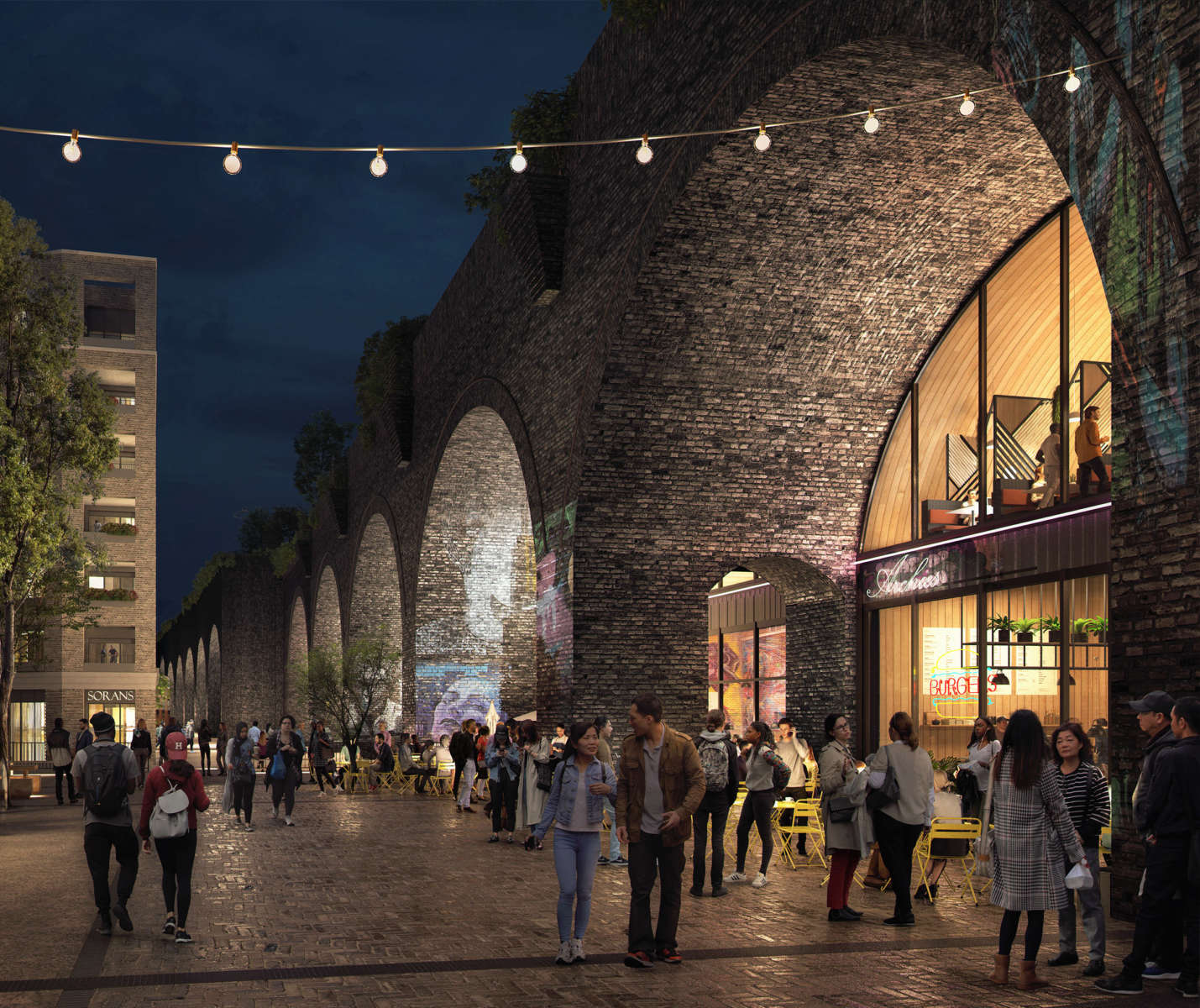 Throughout its history, from rural settlement through to the industrial revolution, Digbeth has been a place that people could both live and work; back-to-back houses provided densely packed homes in close proximity to metal works, all serviced by a series of community buildings such as schools and churches. However, from the interwar period the number of people living in the area began to rapidly decline, leaving Digbeth today with very few residents. There is an opportunity now to restore a vibrant residential community within Digbeth, as well intensify the employment opportunities in the creative industries, which together create a sustainable mixed-use community. We strongly believe that industry and homes can coexist in Digbeth once more.
Our approach to place making at Digbeth has been to root our proposals is an understanding of the history of Digbeth, both in terms of the tangible qualities such as varied architecture, articulated roofline and gridded brick facades, as well as the less tangible qualities, including street art, the peculiar imperfections and the existing creative community. This approach has lead us to a framework which celebrates and protects Digbeth's unique character.
This proposition is part of a blog series being published as part of the ''Digbeth: The Future is Creative'' webinar taking place on the 24th September 2020.

Written by Brian Mallon