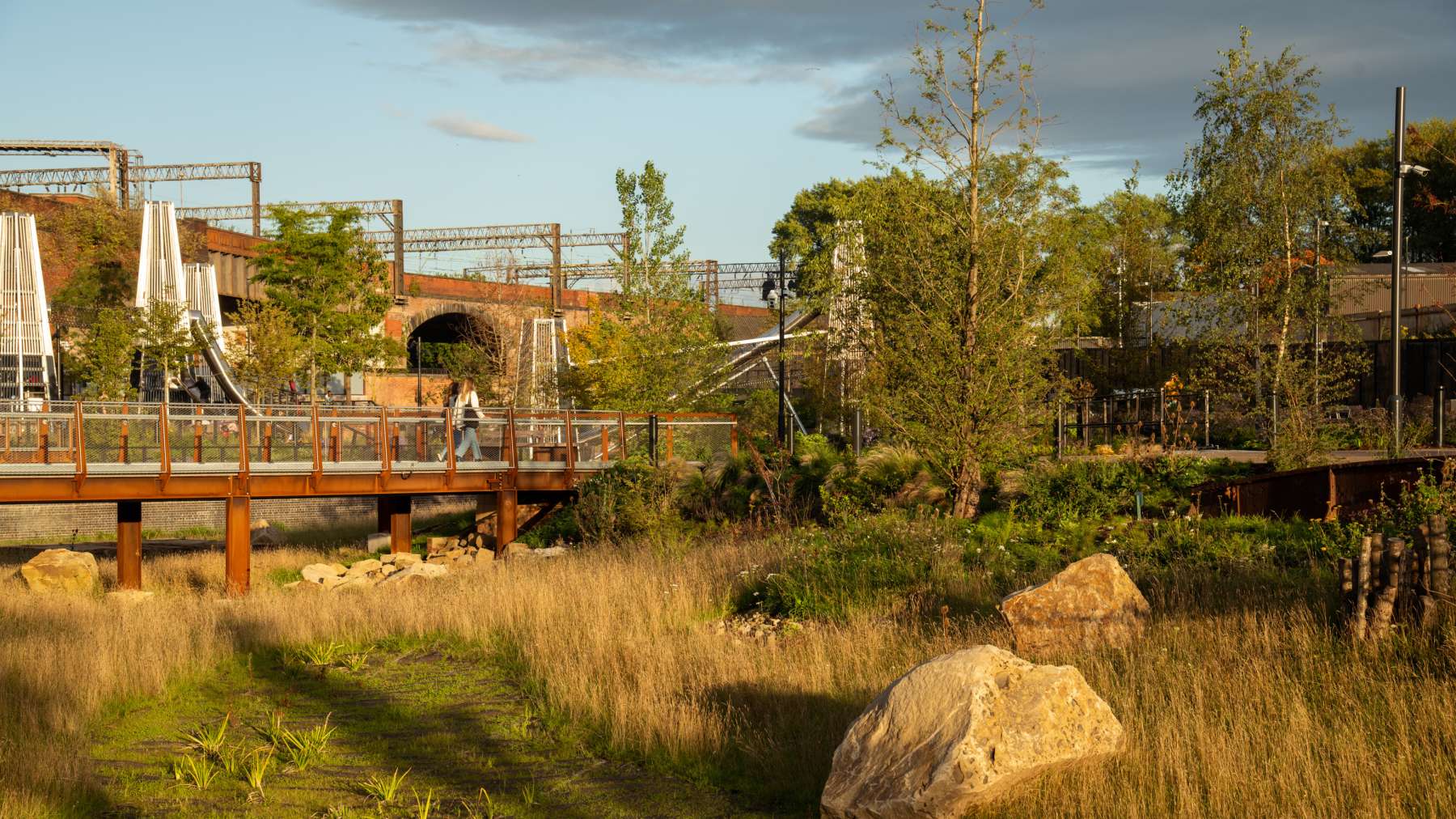 Scroll
Mayfield Park is the first new city-centre park to be created in Manchester for over 100 years and the centrepiece of a 24-acre development of residential, commercial and retail buildings.
Show info
Mayfield Park is the first new city-centre park to be created in Manchester for over 100 years and the centrepiece of a 24-acre development of residential, commercial and retail buildings.
Strategy
The brief was to design a 'world-class' park that was 'Mancunian' at its heart. A landscape that felt connected to its history and context, responded to the climate crisis and was balanced in its creation of habitat for wildlife and space for people.
The site was riddled with contaminates and the central River Medlock was concealed by culverts and devoid of life. On-site materials were salvaged and repaired, and innovative engineering deployed to re-use the river wall structures. Hogback beams from former river culverts were used to support three new bridges and existing wells were re-purposed to water the park.

Client:
Mayfield Partnership (LandsecU+I, LCR, Manchester City Council & Transport for Greater Manchester)
Role:
Landscape Architects

Specificity
The 6.5-acre park has transformed a previously derelict area of the city into a biodiverse expanse of green and blue infrastructure. Crossing the line between civic space and urban garden, the park is a vibrant mix of water and wetlands, trees and wildflowers, long lawns, play areas and rain gardens, combining biodiverse ecological areas for wildlife with recreational spaces for visitors, all inspired by the site's rich industrial heritage.



Sustainability
Mayfield Park has been described as 'a rare gem in the city'; a high-quality landscape scheme that can respond to climate change and a nature-rich haven for visitors. Until Mayfield Park, the growth in homes, offices and culture had not been met with green spaces needed to serve the growing population.



The Park offers a habitat in which wildlife can thrive. Opening up the River Medlock was key to amplifying nature and creating a wet-dry habitat has encouraged the beginnings of a new ecosystem which is already home to a variety of fish, birds and plantlife. Improvements to the river were made knowing it linked the site with the city's greener riparian edges and could unlock the potential of existing blue and green infrastructure and draw countryside and wildlife into the heart of Manchester. In time Mayfield Park hopes to become the catalyst for change along the entire River course.
The existing river morphology was kept, and the masterplan was worked around existing topography to minimise re-profiling the site – both reduce carbon footprint. The park features 63,000 plants, a wildflower meadow, ornamental grasses and 140 trees (40 different species) that will remove three tonnes of C02 per annum from the atmosphere.
The design accommodates a one in 100-year+ climate change flood scenario. Nature-based systems to accommodate flooding have been favoured (e.g. rain gardens) and the wildscape areas allow for flooding, with the riverbed planted to ensure an instant impact.





The Mayfield Lawn and Playground offer spaces for sports, events and play that are accessible for all. The imaginative Play Yard with a focus on accessibility is designed to encourage a sense adventure. Arranged in zones, it includes a slide across the River Medlock, tunnels to reference local railway arches and six play towers reflecting the industrial past.

Reinforced anchor-points for stage set-ups, sunken electrical provisions, and under-path cabling are some of the provisions for streamlined event hosting on Mayfield Lawn.






Mayfield Park features a naturalistic planting design that can adapt to changing climate conditions. Our design includes sequences of different plant arrangements, planting beds, and grasslands, to create journeys through distinct character spaces. Planting is mindful of both dry and wet extremes. The plant mixes creates a visually striking yet functional landscape that is able to withstand the spectrum of different environments of the site.
In drier areas, the plant selection takes into account their resilience based on topography and sun exposure. A large south-facing embankment takes inspiration from the railway embankments adjacent to the site, as a conceptual interpretation of local drought resilient environments often seen alongside railway tracks.
In areas designed to accommodate flood water and high river flows, nature-based systems intercept and slow water discharge and encourage evapotranspiration.
For example, rain gardens feature moisture-tolerant planting that absorbs excess surface runoff, instead of allowing rain to drain into the river and contribute to flood risks downstream.
Indigenous plants are primarily located along the river corridor, with a focus on creating a connected ecology for wildlife. These areas can be challenging for planting due to fluctuating water levels, so we developed pre-planted systems to ensure instant impact and increased resilience to weed growth, flooding, and drought. The floodplain wild-scape is populated with a careful selection of plants that are able to tolerate periodic flooding, ensuring that the planting design also caters to extreme weather events.
As well as creation of planted habitats such as marginal river edge and meadows, other designed biodiversity features have been purposely introduced to encourage wildlife; stone riffles, rock rip-rap, 140 new semi-mature trees of varied species, various nesting boxes, nesting tunnels, hibernaculas, a large flood attenuation wild-scape zone, water filled scrapes, stone piles and log piles and a sensitive approach to lighting which minimises light spill into the river corridor area.
Awards
Year
Category
Award
Status
next