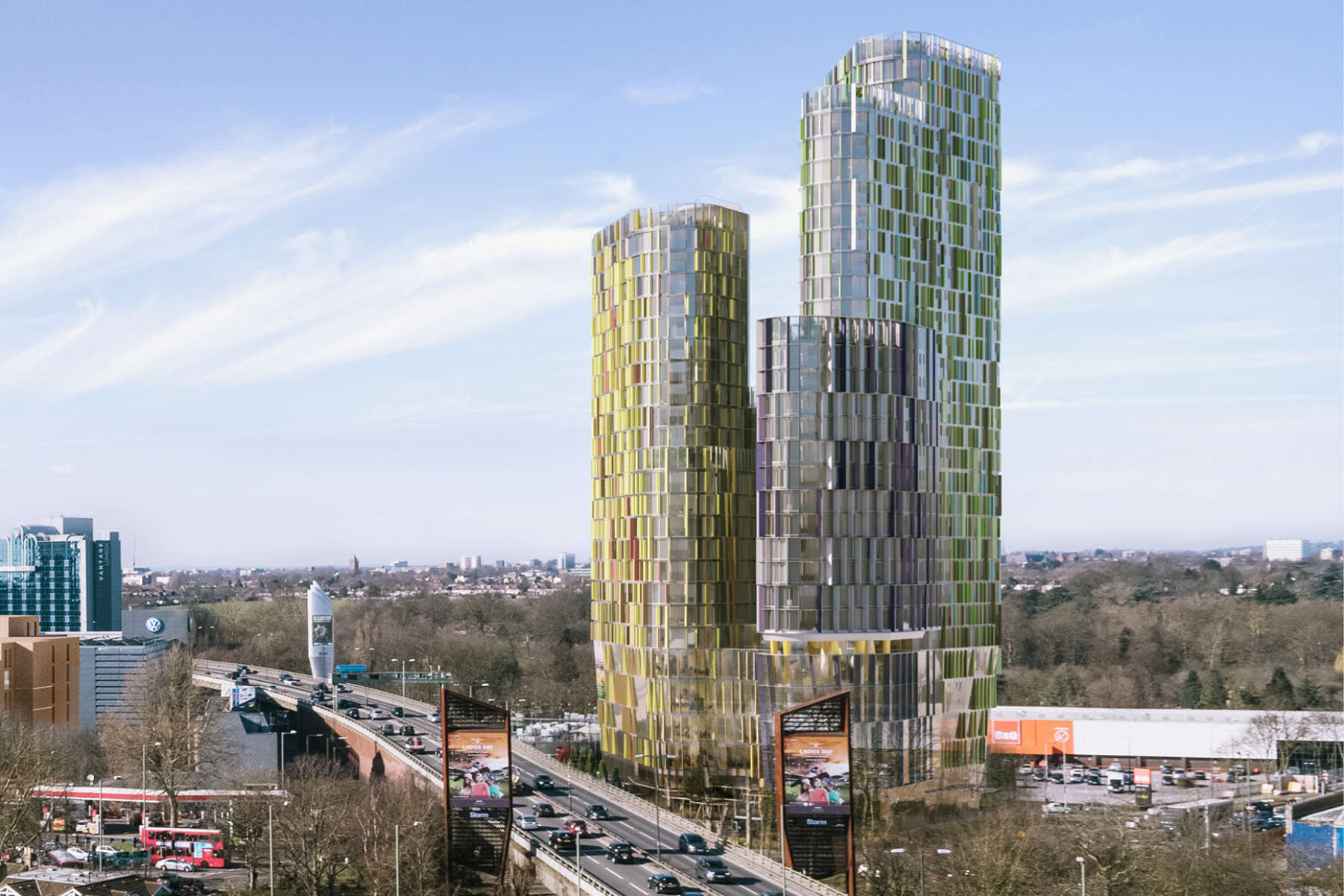 Scroll
Chiswick Curve addresses the need for new employment opportunities and new homes, whilst seeking to connect and unlock an array of wider disconnected spaces.
Show info
Chiswick Curve addresses the need for new employment opportunities and new homes, whilst seeking to connect and unlock an array of wider disconnected spaces.
Strategy
Located adjacent to Chiswick Roundabout, one of the most strategically impor­tant traffic nodes in London, our site marks the start of a spatial entrance sequence into the Capital. It is also the eastern bookend of the 'Golden Mile', a stretch of the M4 motorway that is identified as a place of importance for employment.
Location:
Chiswick, London, UK
Client:
Starbones Ltd
Galliard Homes
Role:
Urban Designer, Architect, Landscape Architect


Having sat vacant for nearly three decades, the site is poised for a strong visual marker that responds to the crucial need to optimise development consistent with context, whilst also addressing an overarching need to heal the severance caused by townscape interventions such as the elevated M4 flyover, the lack of good-quality public realm, and ensure the effects of noise and air quality are mitigated.
In response to this context, we have crafted Chiswick Curve, a mixed-use and sustainable landmark of the highest design quality. From the outset, the designs have addressed the need for new employment oppor­tunities and new homes, whilst seeking to connect and unlock an array of wider disconnected spaces, marrying together an urban fabric of both new and existing public realm.


Overall, our proposals deliver 5,582 sqm of flexible workspace, 327 new dwellings, a generous pedestrian and cyclist friendly ground-level, café and retail space, all alongside a variety of verdant public spaces.
Our three building volumes concept is intrinsically related to the triangular site, with the distinct curved forms creating their own cluster. Compositionally, Chiswick Curve appears different from every angle, conveying an inherent sense of motion, like a couple dancing. The scale, form and detailing of these varying volumes were developed as specific design elements sensitive to the heritage assets of the surrounding conservation areas, including Palm House at Kew Gardens.

The curved façades and stepped terraces are sculpted to soften the sense of mass and create a graduated transition between light and shadow. Façades are designed to respond specifically to orientation in order to control solar heat gain and through the tonality of materials, relate to a colour palette derived from the local Chiswick context.

Specificity
Our first major step has been to explore how we could improve the public realm and make a clear departure from the vehicle and road-dominated nature of the current site environment. We have achieved a seamless transition between the external and internal public spaces, by means of active street frontages, a welcoming atrium and semi-public route through the building and a sinuous design language.

The atrium will consist of a flexible central space with access to a café/restaurant and gallery. A ground floor indoor garden creates a tranquil retreat that offers reprieve for pedestrians, as well as reason to dwell within the landscape and enjoy the new environment. There are also landscaped spaces on the upper levels of the building, including a sky garden on level 32 which will offer residents and the public spectacular views across west London.

Over levels 2-5, four storeys of flexible office space have been designed to accommodate smaller business start-ups, co-working spaces and/or larger enterprises. The design embraces views out of the building and benefit from natural daylight, with each office floor offering up to a maximum of 1,521 sqm of space and generous floor to ceiling heights.


Above the employment space and busy surroundings will be 327 homes of aspirational quality, providing much needed affordable and private housing for London. A wide range of apartment types has been designed from the inside-out to meet the present and future needs of residents. Internal and external communal amenity areas distributed on three different levels will serve residents living in the private and affordable homes, and include a destination playground.

Here, the play concept has evolved around a series of extraordinary natural landscapes commonly found in fairy tales and children's storytelling, reinterpreted in playful and sculptural forms.
Accounting for the kinetic nature of the local area, the design integrates a truly innovative approach to advertising, with a canvas of mesh façade panels. This is a contribution to the many iconic digital and neon billboards that are local landmarks for motorists as they pass through the 'Golden Mile' stretch of the Great West Road, and will become the ever changing face of Chiswick Curve.


Sustainability
Chiswick Curve has been designed with a holistic sustainability strategy to deliver a socially and environmentally respon­sible scheme. The environmental strategy has been developed in conjunction with the sustainability and energy consultants, XCO2 Energy to explore, identify and optimise the environmental and energy performance of the development. The strategy starts with the basic prin­ciples of site layout and building orientation, responds to environmental constraints including noise and air quality, and considers the details of material specifications and renewable technologies.



Specific interventions include the mechanical ventilation and heat recovery system in order to conserve energy, while high-performance glazing improves energy efficiency and increases the level of natural daylight. Planting on the roof terraces offers several sustainable benefits, including the provision of microclimates for birds and insects, whilst incorporating systems for rain water collection and the harvesting of the sun's energy through rooftop photovoltaic panels.
Fundamentally, redevelopment of this strategic site with a porous, inviting, high-quality design will act as a catalyst for the wider regenera­tion of the Golden Mile, reinforcing the council's employment aspirations, whilst providing an accessible and sustainable location for new private and affordable homes with good connections to the Underground, Overground, cycle and bus networks. These new homes will be located above the employment space to help create a mixed-use development.

The public realm plays a major part in transforming the current island site into a greener, safer and better-connected place, with the presence of planting both inside and outside the building heightening the atmospheric qualities of a fresh, botanically rich environment and establishing stronger green corridor connections with Chiswick Roundabout and Chiswick High Road.




''The proposal, by reason of its sophisticated design, would bring a massive uplift to the local area… it would act as a beacon, setting very high standards for other buildings coming forward in the Great West Corridor Opportunity Area.... In my view, the provision of a work of architecture, of the quality proposed, represents a significant benefit.''"
Paul Griffiths
Planning inspector

next