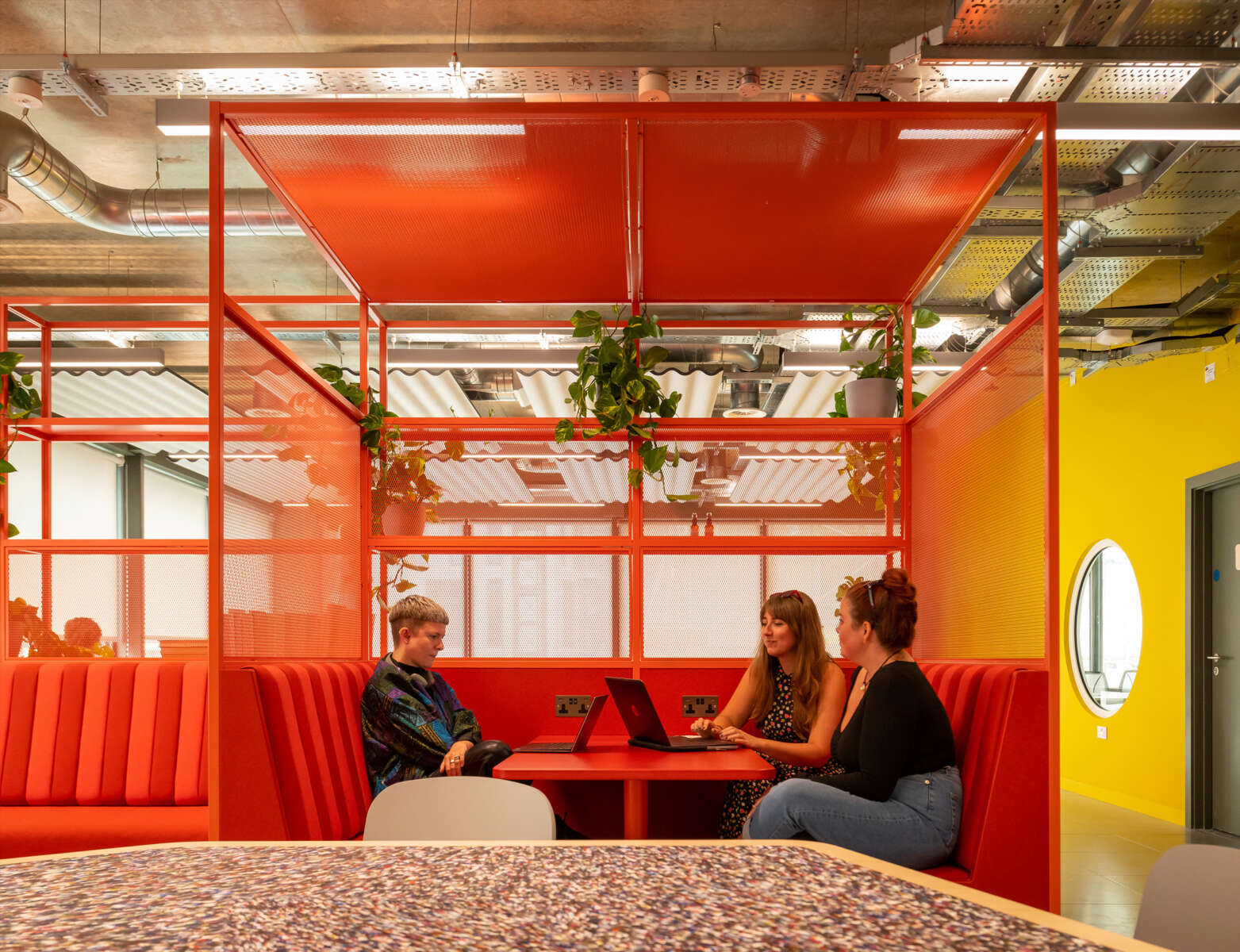 The Future of Workplace?
We already have part of the answer.
Scroll
---
Even before the COVID-19 crisis, there were changes afoot. Workspace was undergoing a quiet evolution, spearheaded by the co-working approach which offers short leases in attractive and well-managed premises, and behind this a stream of serviced offices. The method behind co-working spaces is varied - some offer assistance to new businesses, some offer investment, whilst others are more straightforward working environments.
Studio Egret West have recently completed a new co-working building in Brighton, we are very proud! We hope that it will prove to be a great building, an atmospheric and engaging place to work. However, having recently attended the final site visit, it was both a joyous moment and one of reflection, particularly on how much our working patterns have changed in response to the current crisis, and how we might navigate the journey to inviting people back to the workplace.

Part of the popularity of co-working is due to operator's typical offering of monthly contracts. Since the restrictions in office-based work have come into force these shorter-term commitments will have been reaffirmed as a good choice for the many micro and small businesses that could have otherwise been burdened with long lease payments.
I imagine that over the last few months co-working spaces have been empty, and whilst no doubt this must be challenging for the operators, I can't help but think that this is OK. It is part of the deal after all. Development is about risk management, and whilst the short-term impact is difficult, I am hopeful that the benefit of these super flexible rental agreements means that, when the workplace moves on from the current restrictions, co-working will again be a popular choice.
As we start to think about emerging from the working from home 'bubble' all business owners, from start-ups to larger companies, will be considering the future of their own workplace and how the benefits for employees of not travelling to work and the surprising accessibility of remote working may influence future working patterns. I am certain that co-working has an important role to play in this, particularly for the smaller businesses.
There are issues to resolve as well, we must recognise that working from home has not been easy for everyone - there are many people 'making do' when mixing their workplace and home. It is crucial that whatever direction the industry takes, that it offers consideration and value for all. Whilst working from home may be a choice some make, it will not suit everyone and will most likely be just part of a more diverse approach to what we consider the workplace. There are real benefits that we can harness if we get the model right; less travel time and the documented reduction in carbon emissions are important factors that need to be captured in any new way of working.
Co-working can help here too. Given that not everyone finds working from home a practical experience, maybe it is not so much about working from home but about working from your local neighbourhood. Reducing the requirement for travel and increasing the balance of time available for out of work activities. I could see a successful workplace that is a short walk from home with monthly, weekly or maybe even daily drop-in rates that offers a more comfortable working environment than the rickety chair and poor internet connection of home, but also safeguards the time saved from commuting to focus on the other parts of our lives.
For those industries in which it is possible, if everyone worked one day a week near home, that could mean 20% less travel as well as more money spent locally. I would welcome a future that expends less carbon and has a greater focus on local neighbourhoods, helping to rejuvenate some of the local high streets that are currently struggling more than ever.
We must of course first get through the current crisis, and having watched the brave work of those on the front line, it is important to consider how we might emerge to capture the renewed sense of community and support for each other that has been so inspiring. A step towards a rejuvenated local neighbourhood and more sustainable way of life would be a good step in the right direction.