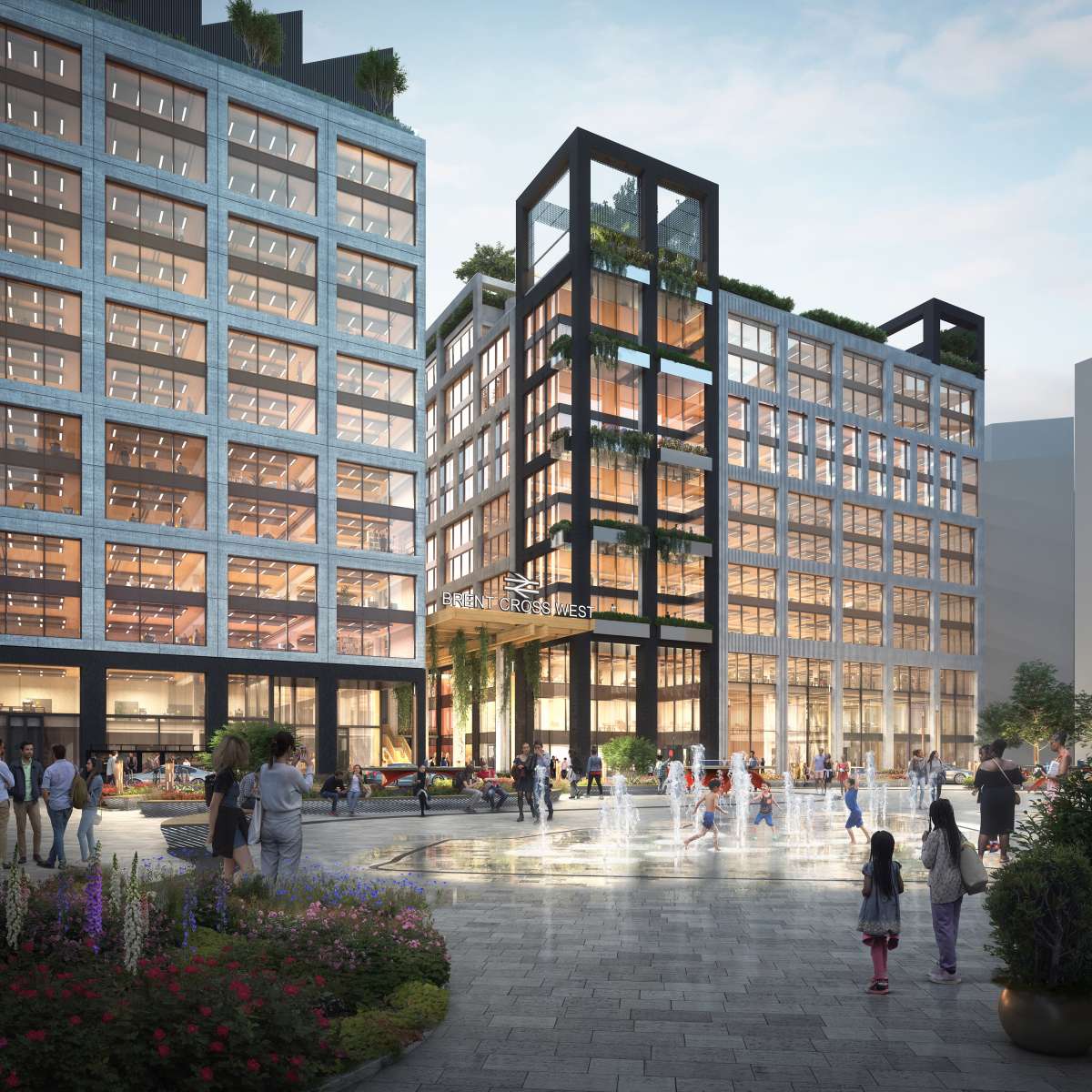 Scroll
Our designs for Office Building #4 are part of Brent Cross Town, a new neighbourhood in North London that is set to become net-zero-carbon by 2030.
Show info
Our designs for Office Building #4 are part of Brent Cross Town, a new neighbourhood in North London that is set to become net-zero-carbon by 2030.
The offices within this neighbourhood will differ from a standard work environment, as well as use cutting-edge timber construction technologies to aid sustainability. The offices will bring together innovative companies, academic organisations and start-ups to create a business ecosystem located at the centre of a 'golden triangle' between the UK's most powerful knowledge clusters – Euston's Knowledge Quarter, Tech City at Old Street and the Oxford-Cambridge Arc.
Strategy
The wider Brent Cross Town will facilitate businesses by putting their employees' wellbeing first, a vital part of a strategy to attract and retain the best talent. Through its 'Project Play' initiative, access to 50 acres of green landscaped parks and playing fields is provided, as well as the creation of new sport and leisure facilities. Argent Related has made a pledge to deliver a new North London town where all can flourish, including businesses and employees. Together with the University of Manchester and Buro Happold, Argent Related has developed a pioneering study to measure individual and social wellbeing. This 'Flourishing Index' will give organisations based at Brent Cross Town valuable insight into the wellbeing.


Specificity
Office Building #4 at Brent Cross Town will be the 'beacon building' within the new neighbourhood. Our detailed designs for the timber-framed building provides 250,000 sq ft of thoughtfully considered, flexible and well-lit floorplates, with a top-floor 'lantern' feature and a generous wrap-around rooftop balcony with panoramic views over the city. If required, the building can connect to the neighbouring #3 Office Building to provide c. 500,000 sq ft of space, expanding the floorplate to c. 45,000 sq ft. Buildings Number 3 and 4 are positioned at either side of the entrance of the new Brent Cross West station, which is being designed and delivered by Studio Egret West. As such, the buildings are suited to host major outward-looking organisations who value easy links to both central London and the rest of the UK.
The office's location next to the new Brent Cross West Station required a close working interface with the Network Rail team to elevate the design beyond standard railway architecture, along with the wider considerations of building adjacent to an active railway line and around an active station entrance.

Sustainability
Office Building #4 will provide a reliable and affordable zero-carbon heating network, with clean air and high indoor environmental quality. All workstations are placed next to the east and west façades where daylight is higher, due to the distance of these façades to the neighbouring buildings in the framework plan. By maximising daylight, using warm materials, promoting stair usage and break out areas for eating and socialising, the office building contributes to the wellbeing of its users.

Awards
Year
Category
Award
Status
next