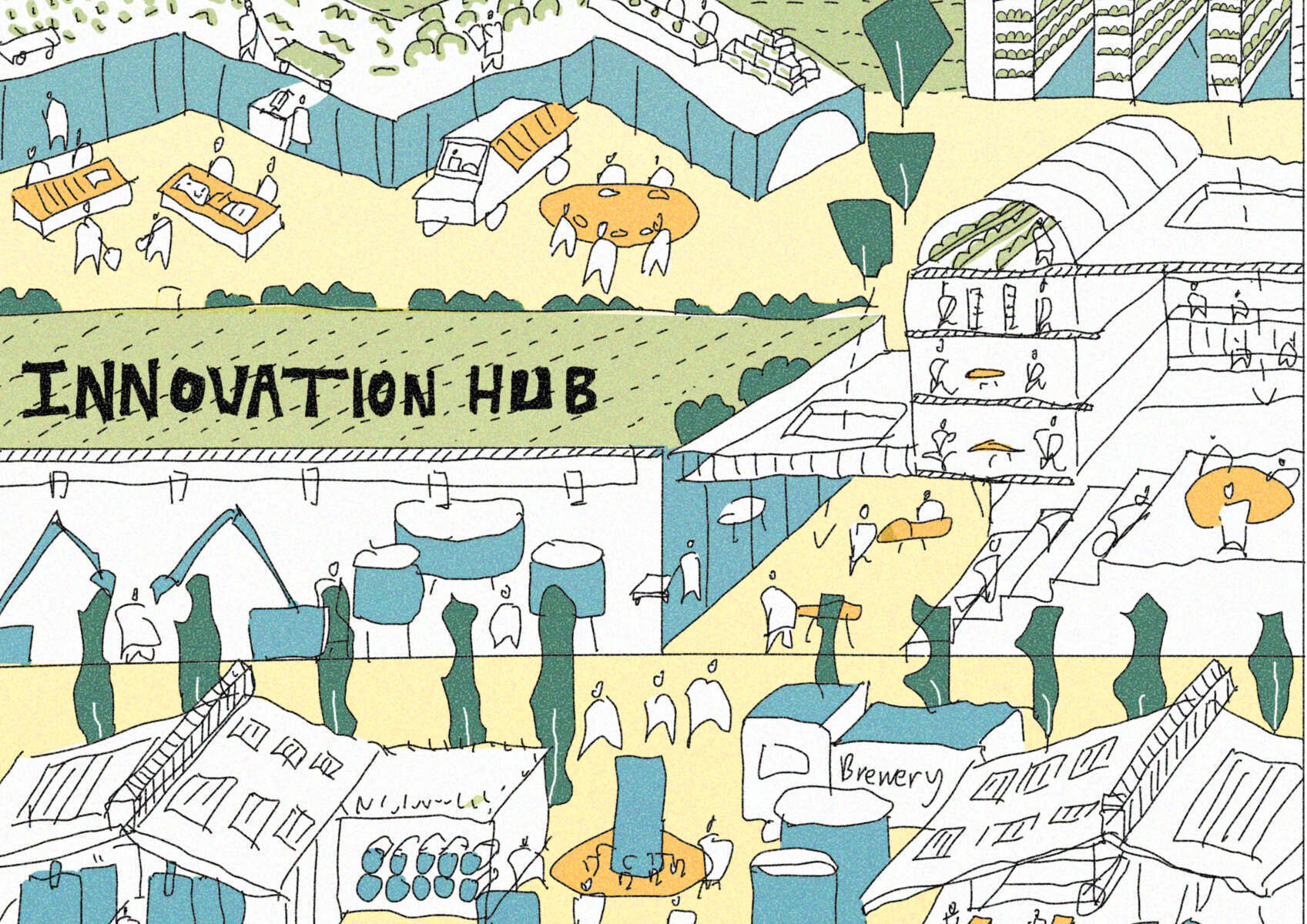 Food Future
How will we feed our growing city population in the future?
Scroll
Challenge and Opportunity: Getting Close to Food Products
Where does our everyday food and drink come from? Some would say it comes from their fridge, supermarket, or a farm which is far away from city. As a kind of important consumer goods, food industry has a mature commercial chain to produce, distribute and sell, including farming, processing, distribution and retailing. However, as technology is playing a key role in the next-generation industry, this upstream and downstream food chain has started evolving to a more integrated knowledge network.
In the next decade, the population of London will rise from 8.98 million to 9.84 million in 2031. How to feed this rapidly growing population is an urgent issue for the city. As planners and urban designers, can we have a plan which is effective and flexible enough to deal with this challenge? It will be difficult and irresponsible to fix the answer today, but why don't we open our minds first, have a look around London and the world, to understand what is happening to food?
Space For Food Product Network: Framework, Density and Knowledge
In order to have a systematic understanding of food industry, this research has included various food-related projects and will include more, which have three characteristics:
Mixed use project: having multiple roles in food network or have social connection with the surrounding neighbourhood, instead of being a big black box factory.
Knowledge-led product: evolving technology and talented people have become one of the most important factors in terms of the location of these projects, which value creativity.
Scale determined by density: similar with traditional industry, large scale business are often located in low-density area, while smaller scale business stay close to the consuming market with high density.
Given by these facts, although all of the projects were listed according to the scale of building frameworks, it is also important to understand their relations with site context and the food-knowledge economy network. Imagine you are one of the operators, this list will be helpful to find your future position, not only physically, but also economically.

The future of farming
Farming Future: The Sky Is The Limit
Vertical farming is becoming normal and popular in the world. It only use controlled light and watering system to grow food on cloth material instead of soil. By saving 90% of land and water, one can easily scale up the product within a high-density area to stay close to customers and lower the cost of shipping fee. However, most vertical farms are struggling financially, because of the cost of electric energy and limited types of plantable crop.
But vertical farming is already being seen as the future of large-scale farming, this business is undoubtedly growing. There are two game-changers, technology and market demand. On one hand, lots of research institute and lab have been working on the issues of energy and crop types, for example, improving technology has helped vertical farm grow tomato instead of only leafy crop in the beginning. On the other hand, more and more people would like to have this organic and healthy food which grow without using pesticide. Therefore, you might already notice, there are farms around you in the very central city, or if you go to some greenhouse farm, you can see only automatic watering machine and crop are growing vertically.
The three projects being used here are very typical as three types of high-tech farming nowadays: container farm, vertical farm and greenhouse farm. Technology of vertical farming makes it possible to grow food in every corner of the world, from central London underground, peripheral neighbourhood of Manhattan to countryside area of the Netherlands.

The future of the food industry
Food Industry Future: Productivity, Hospitality and Creativity
How to live with industry in the city is one of the questions that get asked all the time these days. A good city is well mixed and interrelated, favouring some uses and actively promoting the expropriation of others, will lead to the homogenization of our cities. It is a common misconception that the future economy is a digital and invisible high tech phenomenon, and industry is dirty, noisy and unpopular, which should be away from the living environment. But is that really how the industry looks like today?
In central London, lots of food makers or food artisans are producing and delivering products in some light industry environment. Because of the improvement of technology, industrial workspace, such as brewery, could be very well contained and organized, where customer can go visit and drink beer, while machines are working nearby at the same time.
Food industry could be a key fact to change people's idea about the industry, with its natural social character. In Maltby Street, an unusual food market is crowded every weekend, where will turn into a hard-working workspace at the back of a series of arches. Most of these arches are occupied by food manufacturers, such as coffee roaster, butcher, brewer, dairy maker, etc. This example proves that the food industry can be popular and welcoming in a neighbourhood, and our everyday life of eating and drinking will be changed by a new way of producing food.
Making food is also about creativity. Food makers are putting a lot effort into design and research of healthier and more delicious products to satisfy picky customers, detail such as temperature, ingredient and recipe are being improved and controlled by technology, factories have become science labs. Two examples here are showing how cutting-edge food industry looks like in two scales - research lab and innovation centre.

The future of food infrastructure
Food Infrastructure Future: New Generation of Civic Centre
In modern society, there have been some important infrastructures to distribute food from the countryside to feed the whole city, such as the wholesale market and distribution port. Today these infrastructures play a changing role from being only functional space for selling, storing and distributing food, to more interactive public space with social and educational meaning.
People used to go to the wholesale market to buy fresh food, for example, in London, Smithfield Market for meat and New Covent Garden for fruit and flower, which have been important civic centres for the city. However, when people can buy raw materials directly from farm online, it is inevitable to rethink these markets with less food trading happening.
Fortunately, with a history of food and connection with the city, it is easy to transform traditional food wholesale market into a more diverse public space with various activities. Smithfield Market redevelopment by Studio Egret West spotted this demand of transformation, is set to celebrate food character, open to wider public uses, 'create a place for meeting and making, growing and exchanging, exposition and entertainment' as a food hub.
Differently, the transformation of New Covent Garden is set to support its growth of trading, but same with Smithfield Market, it is going to be a more open and diverse civic centre with cookery school and public programs.
As another type of food infrastructure, distribution port is less connected to public life compared with the wholesale market. It traditionally works as a storage for food aggregation and distribution. In West Louisville, USA, OMA designed a new kind of Food Port as a community centre, which includes not only traditional function, but also communal uses such as community kitchen, farming and market space.

The future of food retailing
Food Retailing Future: Transparency and 24-Hour Economy
All these examples have been showing that the purchase of food is not the end of an industry chain anymore, instead, it will exist in every part of the network. People don't need to go to a store to buy food, they can go to a factory, a food lab or a distribution hub to get what they want, where they will find lots of other events.
With this emerging highly-mixed nature of food retail, firstly, people will have a chance to know where their food comes from and how it is made, which will promote safety and well being of the city. Secondly, space can be operated 24 hours a day not only as retail but also as workspace and event space, which will keep it active during days and nights.

Where will food come from?
Food Urbanism Future: Grow Your Own Food or Move to a Farm
After exploring where our food comes from today, the next question will be where our food comes from in the future. I believe there could be two directions to shape the cities around food.
Firstly, as soilless and automatic technology getting improved, it will be easier and easier to grow food in unexpected places, such as roof, balcony, basement or even on the wall. There have been some developments working on farming in building by design, such as Biophilic Living Swansea and Basement Farming of Plantagon.
Or is it possible that people will move to a farm to get the most fresh food instead of staying in the city and waiting for food distribution? Proposal of Modern Agricultural Park in Sunqiao, Shanghai, by Sasaki, design a piece of the city centred on high-tech farm with housing, office, lab and all kinds of facilities.
Some might say these two kinds of development are too shallow, but it is clear that food urbanism is a kind of multi-scale thinking from domestic space, building to urban system because the future of food production will bring evolving places into daily life form farming, industry workspace, distribution space and retail. That is what architect, urban designer and landscape architect need to consider in terms of shaping future city.

Studio Egret West's proposals for Smithfield Market could place this historic building at the forefront of food innovation in the capital
8:05 mins